Introducing our Next Studio Owner
Kristin Bruton
A Word from our Founder

I'm Jennifer Bryant, and together with our fabulous team of talented teachers, I run this bright little hub of buzzing creativity! And by "run" I mean I mop up the paint spills and pay the light bills.

In the ten years that we've been been fueling kids' creative passions, we've passed a lot of paint and washed a lot of brushes! We've encouraged and inspired and cheered and celebrated a lot of kids. A LOT. We've influenced and shaped countless imaginations, and at times I know this studio was the only happy place that some kids had. 

This studio seems to wrap its arms around everyone who passes through it -  kids + adults alike - changing us all for the better.  I'm so proud of our team and what we do, and as we commemorate our 10-year anniversary this year, we celebrate our exciting growth and evolution as a company and brand.

Our South Charlotte studio continues to be the heartbeat and driving creative force of the organization. Our Fort Mill, SC studio is only approaching their one year anniversary but you'd think they've been open for five!  And now we're excited to introduce you to Kristin Bruton - our next studio owner opening soon in the Charlotte area!  Read about Kristin & make sure you sign up to stay up to date with announcements about her studio opening.
Meet our Next Charlotte Studio Owner
Kristin Bruton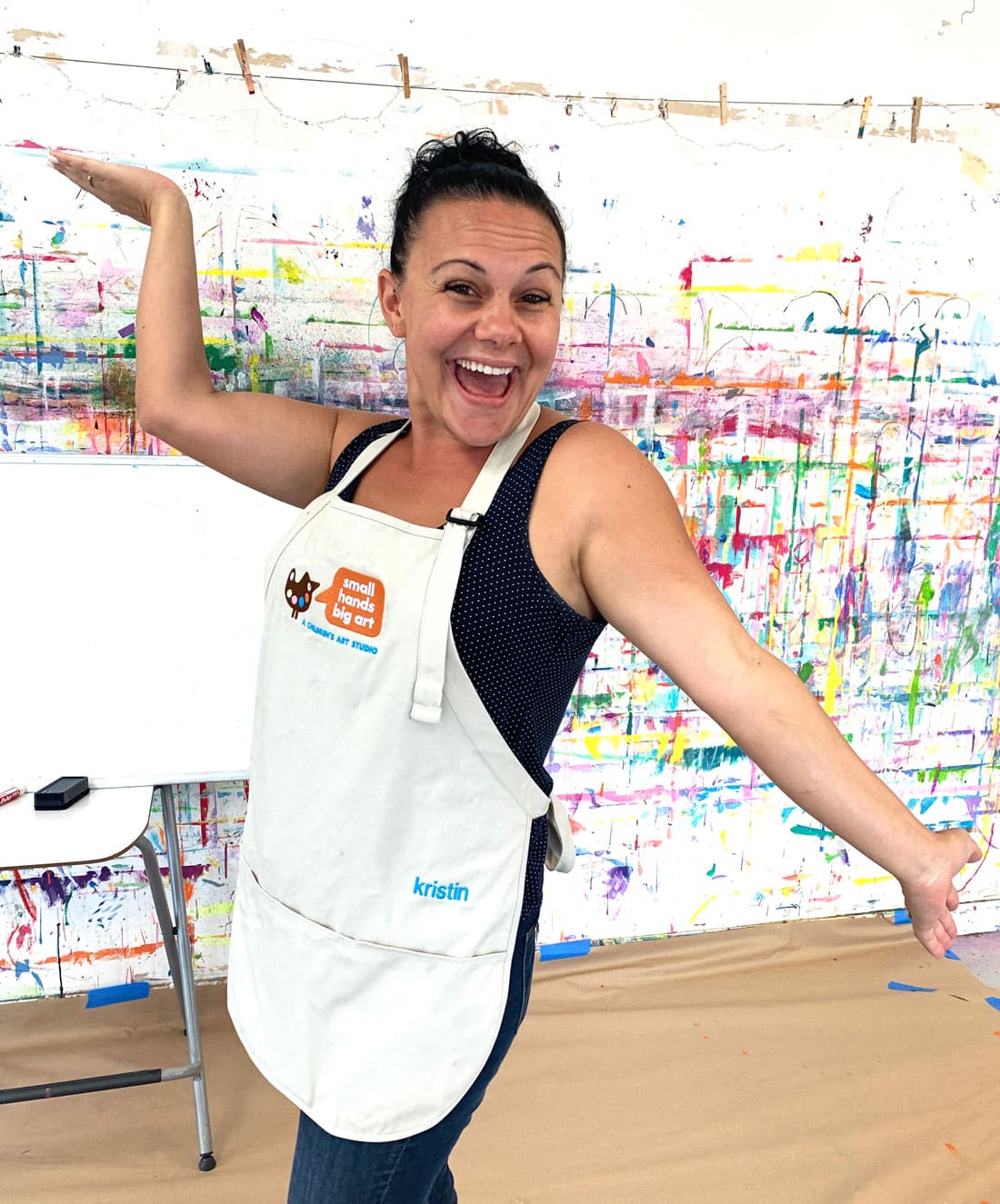 In Her Words
From Kristin
Hi I'm Kristin! I'm excited to share my journey of opening my Small Hands Big Art studio with you! A NY native (born & raised on Long Island!), I earned my BFA in Illustration from the Fashion Institute of Technology (FIT) in Manhattan, then started a Masters in Art Education program with the dream of becoming an elementary art teacher. For as long as I can remember, I've had a deep love and strong desire to work with children.
Shortly into my masters, I was presented with a once-in-a-lifetime opportunity with the Local 829 United Scenic Artist Apprentice Program to work with the best artists in the movie, television and theater world. I put my art teaching dreams on hold when I was one of only five artists selected out of 86 applicants! This was a super exciting time in my career, working as a scenic artist & overseeing other teams of artists on large-scale, super detailed & intricate film sets, a few of which included Sherlock Holmes, The Amazing Spiderman & Spiderman II, Sex and the City, and I am Legend.
Around that same time, I launched my first entrepreneurial venture: licensing my original art with the publisher A.D. Lines under the professional trade name "Kristin Emery Art". It's been a real thrill to see so much of my original art sold in major department stores such as Target, Kohls, Hobby Lobby, & Walmart, and through major online retailers such as Amazon, Houzz, Urban Loft Art, All Posters, Great Big Canvas, and PrintArt.com. You might even have a piece of my art in your home!
In 2015, we moved to the Charlotte, NC area where I focused on raising my two daughters, now 8 & 10. Here, the family-oriented, slower pace of life enabled me to spend time volunteering with my daughters' school, assisting in the classroom, chaperoning field trips and ultimately becoming the (super cool) class mom!
Working with elementary age kids ignited my earlier passion of teaching art to children, and I became swept up with the idea of opening a children's art studio! I owe a lot of credit to my mom for fueling my entrepreneurial independence & drive at a super young age. A successful multi-store owner and Long Island area developer of a popular smoothie cafe franchise, my mom inspires me daily and taught me that there is no greater reward than following your passion and carving your own path in life through hard work, perseverance & dedication.
When my youngest attended art classes at Small Hands Big Art, I was instantly smitten with the studio, their deep roots in the Charlotte community, and how well their teaching philosophies aligned with my own! This is a happy place and I knew I wanted to be a part of it!
I'm thrilled to have the opportunity to positively influence the lives of children in my community by sharing my love of art, my knowledge, and my experience! It's an honor and a privilege to be a part of this company and I can't wait to welcome you in my new studio!