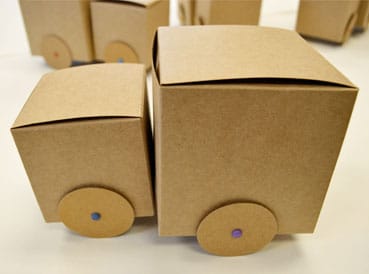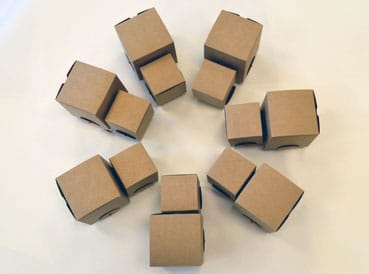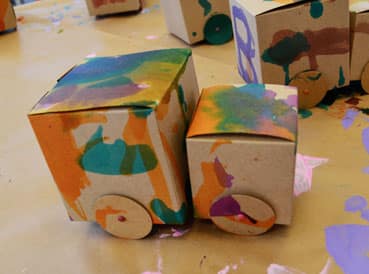 In keeping with our theory that you can make anything out of a box, especially if you accidentally order several thousand of them, we came up with this simple dump truck design for our toddlers! Keep reading to see how easy this toddler art project is!
This project would work well using two recycled boxes, one smaller than the other ~ you don't necessarily need to have a lid on the box being used for the dump truck body. In fact, while we've never seen a convertible dump truck in real life, I guess technically you don't need a lid on the truck cab either!  ~Get creative!  Hopefully these pictures will inspire you – the design and fabrication was so simple, it hardly requires any instruction!  We promise that if you just secure two boxes together and attach something round for wheels, your little ones will be thrilled!
You Need:
Two boxes, one slightly smaller than the other
Five small brads or file folder fasteners
Four cardboard circles for the wheels
Scissors
Odds and ends for "cargo"
Paint (we used liquid watercolor but you could use any type of paint you'd like)
Oil pastels or crayons
How to Do It:
The smaller box is the cab where the driver sits, and the larger box is the dump truck body.  We suggest arranging the boxes together so that the lid of the dump truck body (if there is a lid) opens backwards for ease of dumping.
Using the scissors, carefully poke a small hole in the center of the back of the cab and the center of the dump truck body where it will be attached, and use a brad or fastener to attach.  The two pieces will be very secure if you attach them in the exact center of the boxes (vs. the top or bottom).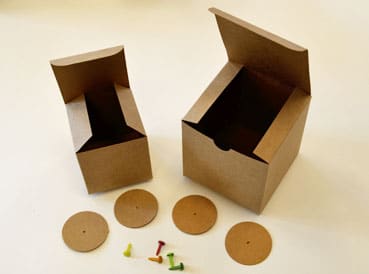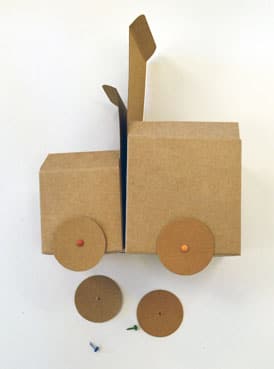 Follow the same process to poke holes in the wheels and attach them on each side of the chassis and dump truck body.
The kids can use the oil pastels and crayons to draw on the boxes before painting.
Paint the truck and cargo pieces, let try, and load up for the first delivery!