Join us for a special drop off enrichment class where Art, Spanish & Play collide!
Because language learning is best nurtured in everyday hands-on environments, what better way to foster bilingualism in your child than through creative discoveries, play, and artistic expression!
Each week your child will hear, understand, and share new Spanish words while creating a special project through foundational art techniques.
We'll excite and engage your child in language and art, and expose them to other cultures in fun, interactive ways that will help them make connections about themselves and the world around them. They will learn about Latin culture and traditions through stories, songs & movement.
It's an exciting "trip" around Latin America – no passports or previous Spanish experience required!
To help you gain an appreciation for what your child is experiencing in class, after each class we'll send you home with a written description of the theme for that week, referencing the books and/or songs that we introduced, and the specific words, topics, & art techniques that your child learned.
COST: $150 / 6 week session, 10% sibling discount
WHEN & WHERE: S. Charlotte Studio Schedule, 8025 Ardrey Kell Rd.
Tuesday, 9:30-10:30am – Mixed Ages 4-10, DROP OFF
Wednesday, 10:00-11:00am – Ages 5 – 9, DROP OFF
Early Spring 2019: March 4 – April 13
Late Spring 2019: April 22 – June 1
Meet the Instructor!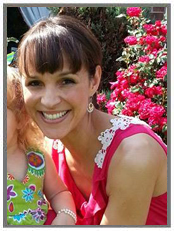 Carina Cordero Brossy
Global Education Specialist
Carina grew up as a heritage speaker in a Spanish-speaking Puerto Rican family. After receiving a degree in International Affairs and Spanish, she spent several years as a Spanish and French teacher followed by a career in global education and overseas immersion programs.
Carina has traveled to over 20 countries, 10 of them in Latin America. She has a soft spot for learning languages and has formerly studied Spanish, French, Mandarin and now Russian. She attributes her love of language to her habit of being nosy inquisitive. Carina loves learning and teaching language through her favorite 3 R's – rhythm, repetition and real life!
Currently, Carina is recording a podcast series called "Our Edible Stories". As an avid gardener, cook, foodie and food historian, the podcast explores personal stories from local Charlotteans as they share how their cultural identities shape their everyday food choices.