A Word from our Founder

I'm Jennifer Bryant, and together with our fabulous team of talented teachers, I run this bright little hub of buzzing creativity! And by "run" I mean I mop up the paint spills and keep the lights turned on.

In the almost fifteen years that we've been been fueling kids' creative passions, we've passed a lot of paint and washed a lot of brushes! We've encouraged and inspired and cheered and celebrated a lot of kids. A LOT. We've influenced and shaped countless imaginations, and at times I know this studio was the only happy place that some kids had. 

This studio seems to wrap its arms around everyone who passes through it -  kids & adults alike - changing us all for the better.  I'm so proud of our team and what we do!  Today we celebrate our exciting growth and evolution as a company + brand.

Our South Charlotte studio continues to be the heartbeat and driving creative force of the organization, with a major expansion and move in June 2020 (yes, right during Covid - eeek!).  Our Fort Mill, SC studio took their community by storm in 2018, weathered the pandemic with focus and drive, and has helped our brand evolve and grow to reach to so many new kids! 

We can't wait to see what the future holds!
Our Approach
We value the creative process
We believe it is important to provide kids with artistic freedom and latitude to make their own creative choices and work at their own pace, while downplaying the aesthetic value of the finished product.  This promotes each child's unique expression and discovery of the joy of art.
Regardless of the project, materials or medium we are working with, children are given suggested topics and techniques to stimulate their imagination and help them to visualize their ideas.  We balance this approach with a mix of more structured, instructed projects so they can experience the realization that yes they can draw a giraffe!  They are not always given prescribed step-by-step procedures, directions, or examples to copy, which can inhibit self-expression and lead to a frustrating urge for perfection.    
We strive to stimulate their thoughts, feelings, and perception in a way that inspires and encourages each child to express their ideas visually, while offering individualized guidance during the creative process as needed.
This is a Happy Place
Come and See
Our studios are bright and open, warm & inviting.  They are buzzing with the sound of watercolor brushes clinking against glass jars, chalk pastels scraping on toothy, textured paper – and busy chatter about random events in busy little lives, and passing colors.   Inside a Small Hands Big Art studio, children can feel free and uninhibited to explore their creativity without worrying about making a mistake or a mess.
Our fine art infused classes, camps, & workshops are geared towards kids ages toddlers to 15, and feature mixed media activities include painting, drawing, collage, printmaking, & sculpture!  Some locations also offer pottery classes and summer camps! 
Pre-school kids are introduced to a supportive social environment in which to gradually explore their independence with a parent or caretaker, building social and coordination skills, self-awareness and self-confidence. Older children are guided through the creative process through encouragement of original and creative self-expression.
Our Leadership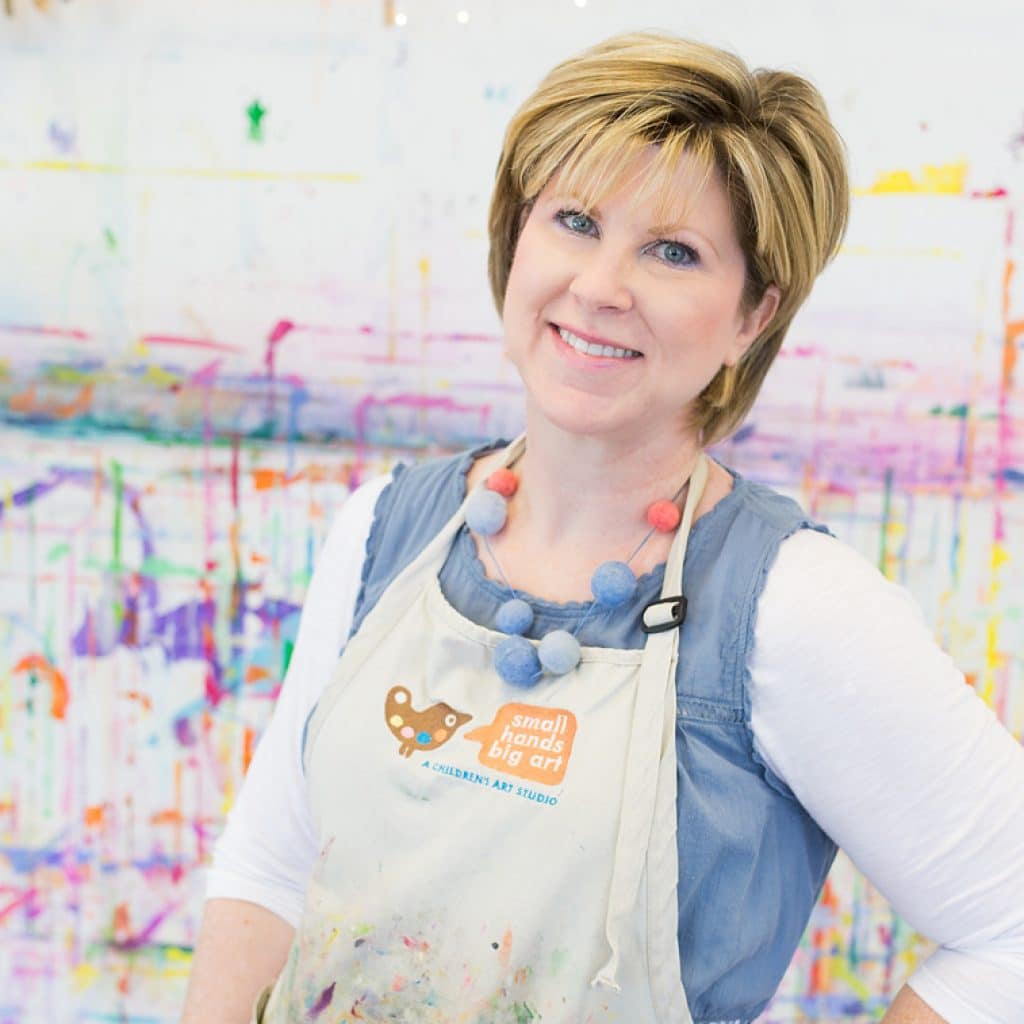 As the founder of Small Hands Big Art, Jennifer learned at an early age the transformational power that art and creative thinking can have. After a "first" career in the financial world, she traded in the "corporate ladder" for one that was thrifted, slathered in paint, decorated with DIY tassels, and surrounded by smiling children eager to learn how to wield a paintbrush.
She dreamed, schemed, planned, and invented a world where the colors are bright, and the little artists are growing, learning, and laughing. Jennifer has nurtured this sweet studio, cultivated the brand and methodology behind how we create, and inspired young artists in the Charlotte community since 2009. She is the brains behind this operation: keeping the creativity and paper towel supply flowing! Jen knows the best secrets of where to purchase art supplies, is extremely talented at inventing the fastest way to cut circles, and oh! she's a pretty great art teacher too!
After almost 15 years at the helm of the studio, Jennifer is inviting other creative dreamers into our whimsical world so that our special variety of artsy goodness is available to all little makers. Jennifer partners with our studio owners to empower their creative and operational success and is here to guide and support them every step of their own creative journey. 
When not in "Small Hands Big Art" mode, Jen and her husband Scott can be found mastering a new DIY project at their cabin, taking their sweet dog on a walk, and enjoying the great outdoors in the mountains of Western NC!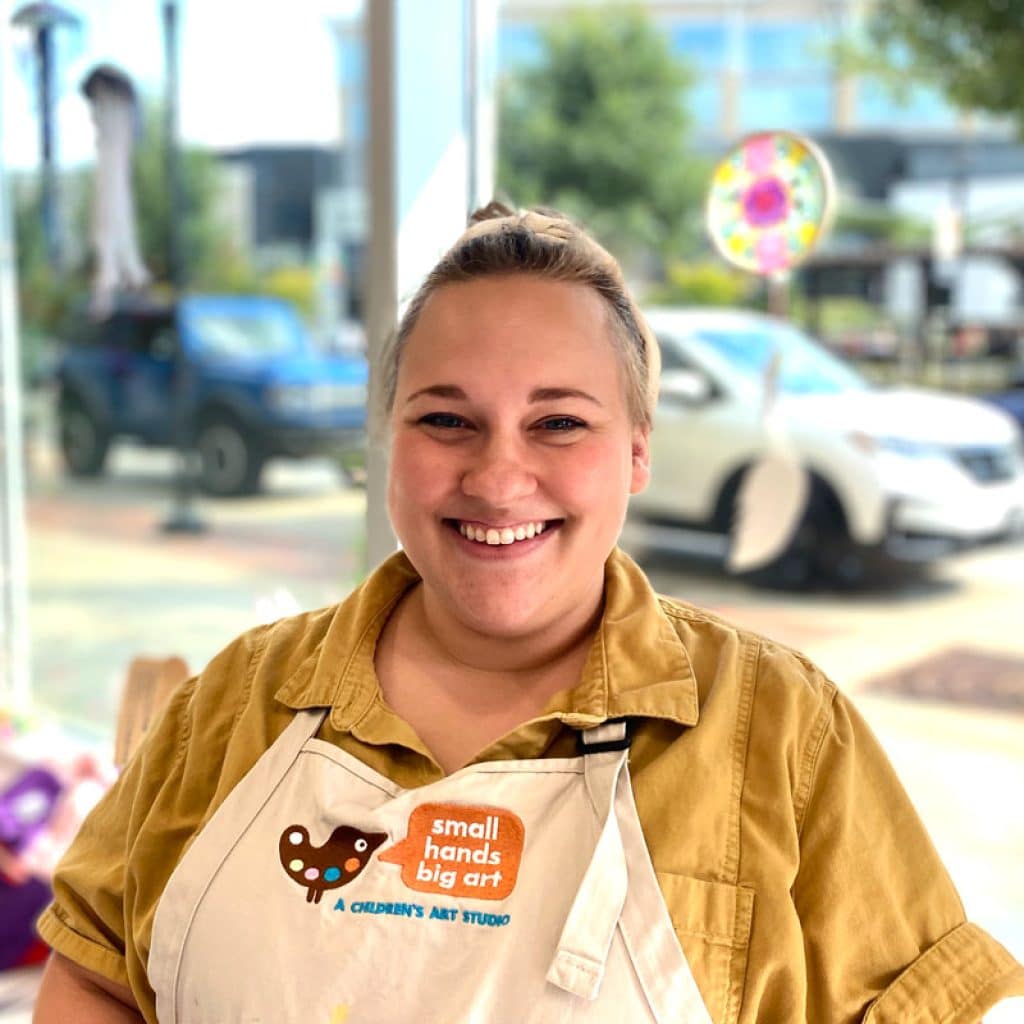 Katie's vibrant and larger-than-life energy has been bouncing off the walls at the South Charlotte Small Hands Big Art studio since 2012.
Her passion is cultivating a studio environment for students to express themselves freely, make brave creative choices, be encouraged to think critically about art, and grow in their creative knowledge and confidence. 
Her fine art background and creative vision have have been hugely instrumental in the South Charlotte's studio success. Educating and inspiring students of all ages keeps her on her toes as an educator and creative force. She strives to ensure each family is able to connect to the creative experience of their young artist.  If you are wondering who organized the paintbrushes, built a 5 foot art cupcake, or busted into the glitter cabinet – look no further.
She has a passion for innovating unique art projects and programs for our curriculum.  Katie coaches and mentors other studio owners and teachers on the vision, brand, styling, and process of art education within a Small Hands Big Art studio. 
Outside the studio, Katie enjoys life with husband Nick & two boys while they take on creative updates at their 1960's rambler, get creative in the backyard, and enjoy taco night on more than just Tuesdays.