Age Appropriate Fine Art Classes
Intimate Small Classes During Covid-19 for Preschoolers to Teens!
2 hour Creative Morning Preschool Classes
Drop Off, Age 3.5 - 6
Preschool age kids (age 3.5 – 6) will delight in following their natural curiosity as they discover and learn through art! At this age, virtually anything can be taught through or enhanced by art! – Nature, science, numbers, letters, colors, shapes, mixing, sorting, stacking, pinching, pulling, squeezing, rhyming, singing… you name it!
This drop off creative class is a blast for your newly independent artist as they explore lots of different art materials, tools and processes through open-ended projects and child-led experiences. A perfect blend of sensory process-based art, and simple instructed techniques, your child's confidence & joy will soar as they experience the magic of mixing yellow + blue to make green (!!), and turning simple marks & shapes into recognizable objects (what?! a circle with a triangle on top can turn into a bird!).
If you were a fly on the wall during this class you might possibly see us using our paintbrushes as microphones, wearing embroidery hoops as crowns, creating art inspired by our favorite books, making up rhymes and ditties, and generally just being silly! And brace yourself at pick up time for the high pitched squeals of happy kids who can't wait to show you what they created!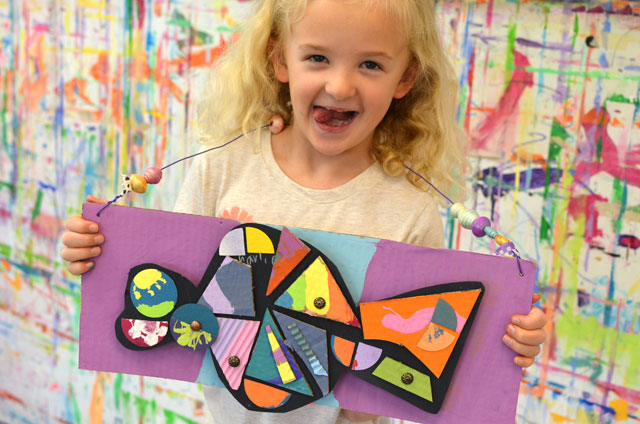 DAYS / TIMES:
Mon., Tues., Wed., Thurs., 9:00 – 11:00AM
Early Fall Session August 24 – October 2 (no class on Labor Day, Sept. 7)
TUITION: 
Daily drop in tuition:  $50
Weekly tuition to attend Monday through Thursday:  $195
1 day a week of your choice, for 6 week Early Fall session $292
Full Week for 6 week Early Fall Session, Mon. – Thursday each week $745 (best value!)
1 Hour Preschool Class
Drop Off, Age 3 - 5
This class is structured just like our Creative Morning preschool class, but is a shorter duration – only one hour vs. two hours!
The class meets one day a week, weekly for 6 week sessions.  Students are welcome to join a session in progress for a pro-rated fee.
Early Fall 2020 Session:  Six weeks starting Wed., August 26
Days / Times:  Wednesday or Friday, 11:30-12:30am
Tuition:  $150 / 6 week session
2 Hour ART LAB
Drop Off, Mixed Ages 5 - 12
This 2 hour class blends fine art techniques with your child's own creative expression. We strive to expose students to aspects of art history, current art makers, and the elements of art (line, space, color, balance, etc.), while letting them run a little wild with their own imagination.
We hear lots of kids this age saying "But I don't know howwwww!!!!!!". We enjoy creating a space for your child to slow down, be in the moment, and be comfortable trying something new. This class is a great social experience and opportunity to share ideas, brainstorm as a class, and make big decisions about their personal art!
We paint, we draw, we tinker & build.  We use fine art materials like liquid watercolors, richly pigmented chalk & oil pastels, tempera + acrylic paints, and unique surfaces, tools and heavyweight papers.  You won't find a crayon or googly eye in the studio! We take creative risks, and sometimes deconstruct, troubleshoot then try a different approach.  Our talented & experienced instructors deliver a balanced mix of both instructional age-appropriate projects and open-ended, process-based creative prompts that leave the subject matter up to the individual artist!
This is our largest student age group so we have lots of Covid-19 options to meet every type of schedule!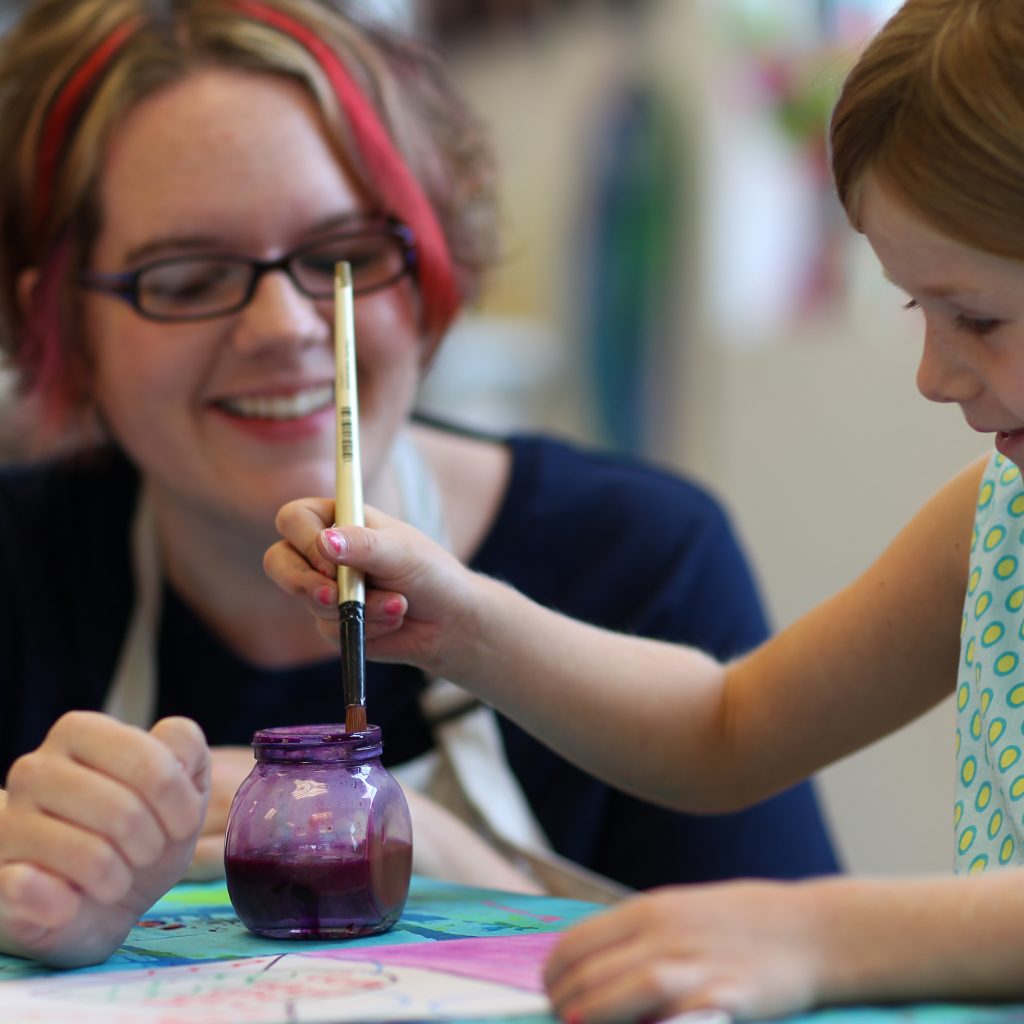 DAYS / TIMES: 
FULL WEEK ART LAB
Weekly, Monday thru Friday, 1:00-3:00PM 
Similar to a week long summer camp, this Full Week Art Lab class meets daily, Monday through Friday, 1:00 – 3:00pm. Enrollment is on a per week basis.  Projects will be different each week, so feel free to enroll in multiple weeks!
Projects frequently carry over from day to day during the week, so daily drop in options are limited due to space & logistics, but you can call the studio to check availability!
TUITION: 
$245 per week, 10% sibling discount
ART LAB 6 WEEK SESSION
Mondays, 3:30 – 5:30pm
Tuesdays, 3:30 – 5:30pm
Fridays, 9:00-11:00am
Class meets on your day/time of choice, once a week for 6 weeks.  Early Fall session starts the week of August 24 – October 2, 2020.  Drop in on a per day basis space permitting.
Tuition:  Full 6 week Session:  $300.  Daily Drop in rate:  $55.  10% sibling discount.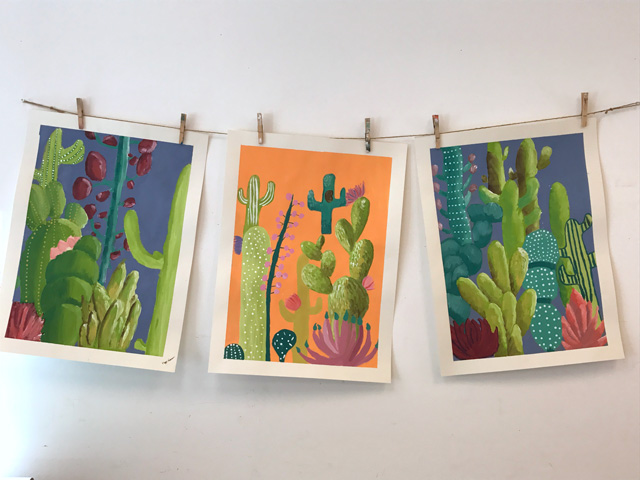 DAYS / TIMES: 
Fridays, 3:30 – 4:30pm
Fridays, 5:00 – 6:00pm
Class meets weekly for 6 weeks.  Early Fall session starts Friday Aug. 28 and runs through Friday, October 2, 2020.  Drop in on a per day basis space permitting.
TUITION:
Full 6 week Session:  $160.  Daily Drop in (space permitting):  $30.  10% sibling discount.
Tween / Teen Crafternoons
Age 12 - 16
These 'tweens & early teens are excited and ready for more complex techniques & materials and we have the joy of challenging them as they grow in the creative process. They are encouraged to trust their instincts, value their individuality, and think critically about their art choices.
Continuing with mixed media art projects, we embark on more advanced techniques in drawing, painting, collage, printmaking, and sculpture. The dynamic in this class is much more of a collaborative art studio – with students sharing ideas and instructors demonstrating techniques for each individual artist to apply.
Intermediate Mixed Media
Age 12 - 16
This 90 minute studio class provides our early teen students with an in-depth opportunity to explore innovative art techniques, advanced fine art skills, trendy creative projects, and simply get their hands messy!
This process-oriented class emphasizes making independent choices, expressing themselves through their creativity, and progressively building upon their art-making knowledge and skills. We explore a variety of mediums with a constantly rotating menu of fun projects on tap, ranging from illustration, painting, printmaking, fiber arts, sculpture, & upcycle, to home decor + fashion trends! These classes are usually intimate and laid back – our team of instructors are skilled at getting to know individual students to strike the best balance between challenging & fun, helping to work through frustrations & self-criticism.
Students will grow in their understanding of techniques, art vocabulary, composition, proportion, scale, perspective, color theory, light & form. Oh! And they'll make some cool stuff too!
DAYS / TIMES: 
Wednesdays, 6:30 – 8:00pm
Class meets weekly for 6 weeks.  Early Fall session starts Wed., Aug. 26 and runs through Wed., Sept. 30, 2020.  As projects continue and build on concepts from week to week, drop ins are not feasible.
TUITION:
Full 6 week Session:  $190, 10% sibling discount.
Family Open Studio
Age 4 - 10, Parent or Caregiver Stays
Family Drop In Open Studio is an opportunity to collaborate and co-create with siblings!  A parent or adult caregiver is required to stay with their child(ren).
Each week, children will be able to select from up to three different creative invitations (i.e., "project prompts" or "activity centers"), chock full of stimulating & enticing art materials & tools – with no preconceived expectations of a particular finished product.  While parents & staff are available to help get kids' wheels turning and make suggestions for getting "un-stuck" or problem solving, this child-led class allows kids to independently create at their own pace without pressure to produce a specific finished "product".  
Students learn responsibility as they make independent creative decisions, while enjoying the freedom of a low-pressure, process-based creative exploration. 
We encourage parents to support and nurture their children as they follow their creative whimsy, prompting them with specific challenges and opportunities as necessary, and modeling a respectful appreciation for the available art materials, tools, and studio space.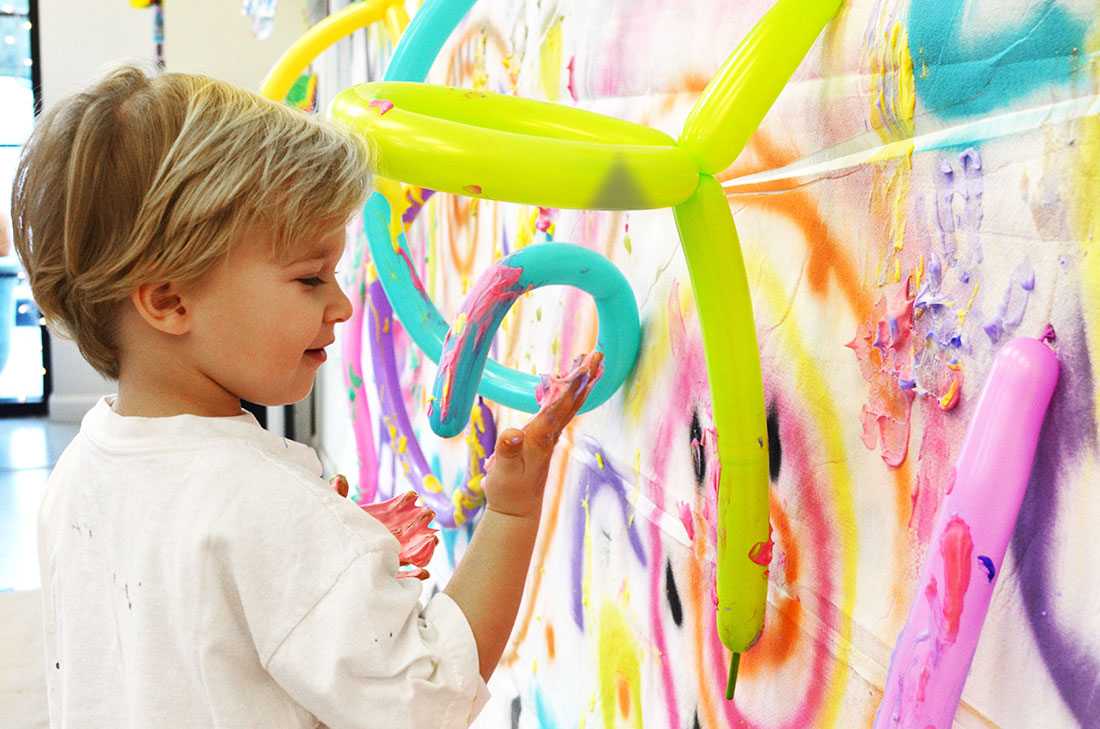 DAYS / TIMES: 
Wednesdays, 4:00 – 6:00pm
Thursdays, 4:00 – 6:00pm
TUITION:
5 class pass $125
10 class pass $240
15 class pass $330
Arrive anytime during the two hour window, allowing enough time to get into the creative groove!  *Unused classes expire after 12 months; prior to expiration, tuition can be applied towards other available classes.
RSVP Required!  Space is limited to only 7 family tables.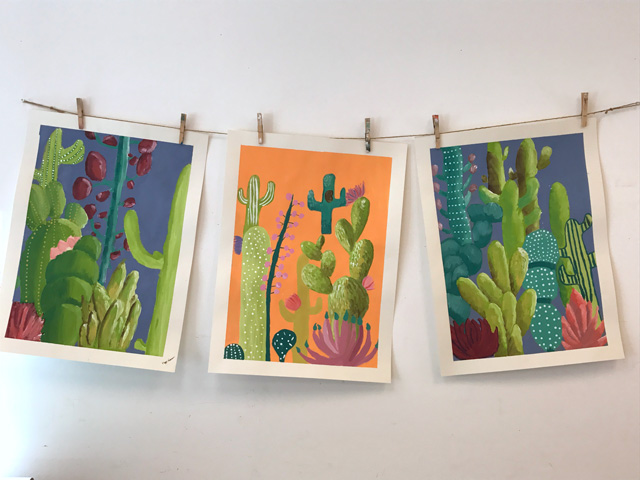 DAYS / TIMES: 
Tuesdays, 6:00 – 7:00pm
Class meets weekly for 6 weeks.  Early Fall session starts Tuesday, August 25 and runs through Tuesday, Sept. 29, 2020.
TUITION:
Full 6 week Session:  $170, 10% sibling discount.
Foundational Drawing
Age 10 - 12
This class is for students ages 10 – 12 who want to improve and refine their drawing skills!  Most art mediums (painting, for example) are improved with strong foundational drawing techniques and we'll give students the tools they need to improve their overall art skills!
In this class, students will learn about composition, line, value, tone, perspective and highlights + shadow.  We teach students how to draw what they see (vs. drawing what they think they see), and recognize the relationship between objects, positive and negative spaces, proportion, light, shadow, texture, and dimension.  Students will practice learned techniques using a variety of drawing materials, including graphite, charcoal, chalk, colored pencils and pen & ink.
3D Sculpture
Age 6 - 12
Students in this class will learn to create a variety of sculptures, including free-standing 3D sculptures and relief sculptures (a raised design on a flat surface), using foundational sculpting techniques such as modeling, molding, shaping, & assembling. 
Kids love to work on a large scale, and what better opportunity to go big than a Sculpture class!  The methods & possibilities are endless – from paper mache to modeling clay and assemblages, to creating sculptures from unique found objects & upcycled materials!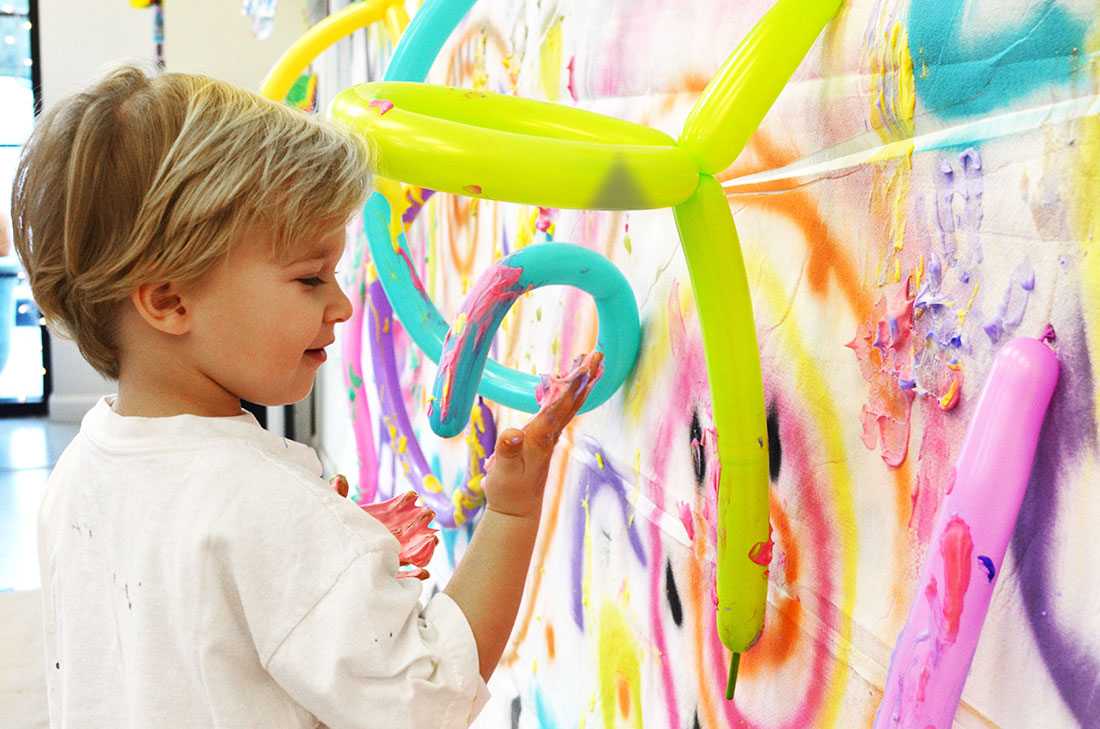 DAYS / TIMES: 
Mondays, 6:00 – 7:00pm
Class meets weekly for 6 weeks.  Early Fall session starts Monday, August 24 and runs through Monday, Sept. 28, 2020.
TUITION:
Full 6 week Session:  $160, 10% sibling discount.
Escort Your Artist
Age 18m - 4
**COVID-19 NOTE:  Due to the propensity of toddlers to touch & taste everything and everyone in sight, and their inability to "social distance", we will be holding off on hosting these well-loved (and very missed!) classes until it is safer to do so!
Remember that time you tried that amazing craft project from Pinterest with the cotton balls and food coloring that stained your kitchen table and your toddler's hands for four days? Let's not do that again, okay?
Our "Escort Your Artist" playgroup is the perfect opportunity for your child to experiment with colors, shapes & enticing sensory materials. You or another adult sidekick (nanny, grandparent, etc.) will engage, inspire and challenge your little Picasso alongside our teaching staff, as they move freely throughout the studio working at their own pace at a number of creative art stations & prompts. Class times are structured as flexible Open Play times – either 1.5 or 2 hour time blocks, and artists are welcome to arrive anytime within that window and stay as long as they'd like (most kids enjoy about 45 minutes).