We recently shared our Ceramic Ox project for kids that we did in a New Year's Pottery workshop in our Charlotte, NC pottery studio!  And now we'd love to show off this amazing Ox Painting project for kids!
We were in the mood for a good 2021 celebratory project and what better inspiration than the Chinese New Year of the Ox!  The ox symbolizes hard work, steadfastness and fortitude, among many other attributes of strength and resilience.  How fitting to celebrate these characteristics as we say goodbye to one of the hardest years in recorded history!
So Hello 2021!    Students in a New Years Art Camp in our Charlotte, NC studio drew and painted these beautiful oxen inspired by artist and designer, Andrew Holder.  Here's a look at his original work: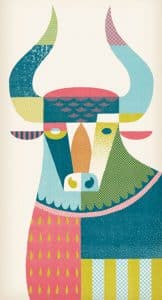 We studied Holder's graphic ox, and observed his use of line and shape in the composition.  We occasionally love to do instructed drawings comprised of such simple shapes – kids really enjoy the experience of going from a panicked "I can't draw an ox!!  I don't know how!!" to experiencing that the CAN draw an ox, one shape at a time!
After drawing with pencil, kids painted over their lines with india ink and a fine tip brush.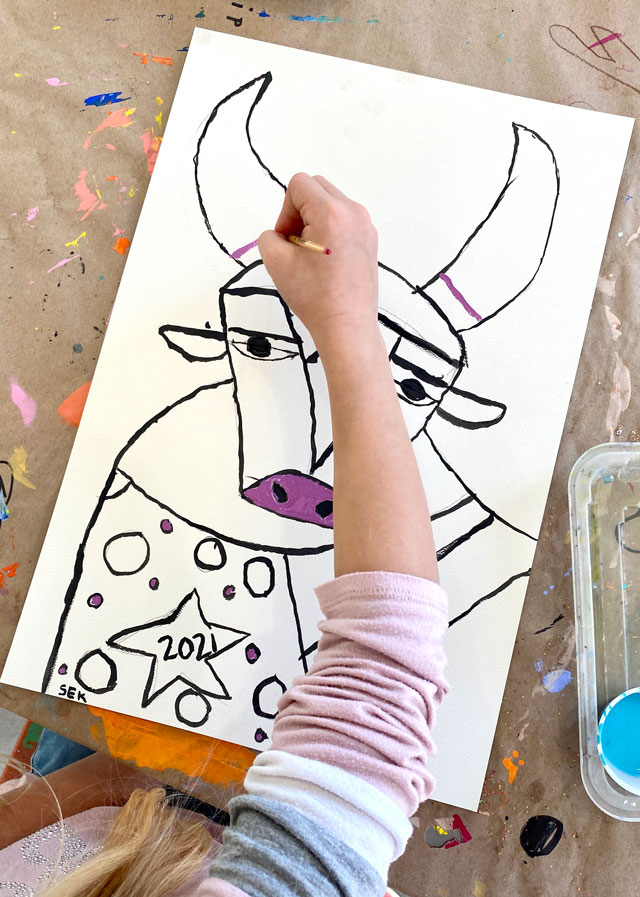 Next we painted some accent colors with tempera paint.  We didn't have a lot of time to paint the whole picture, so we opted to go with accent colors, and painted repetitive lines and shapes.
We thought they came out fabulous!  These kids were between the ages of 5-9!
In a later class, we had a bit more time so we drew with pencil, traced with sharpie, and watercolored (below).  The kids were all on the younger age 5-6ish side.