We're excited to share this beautiful bird painting art project for kids inspired by artist Sanna Annukka.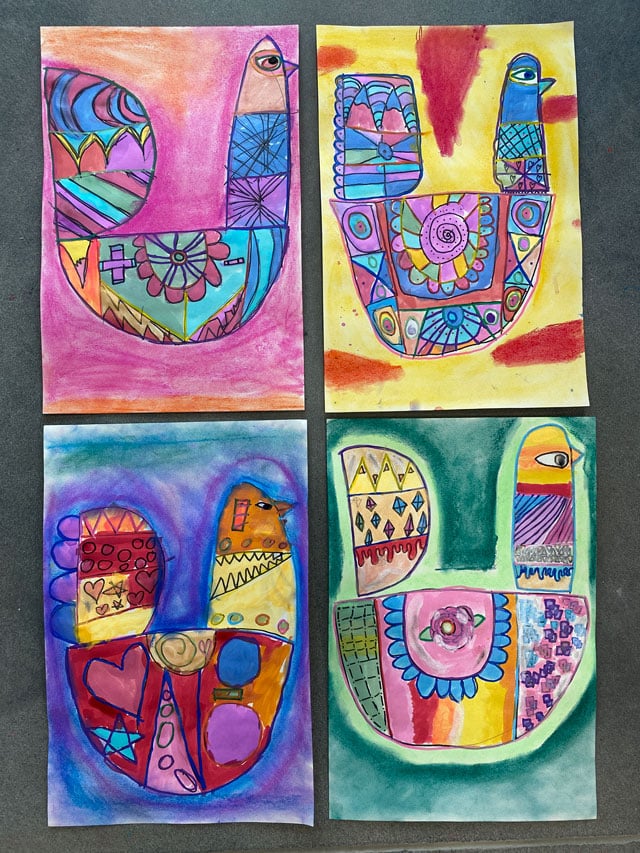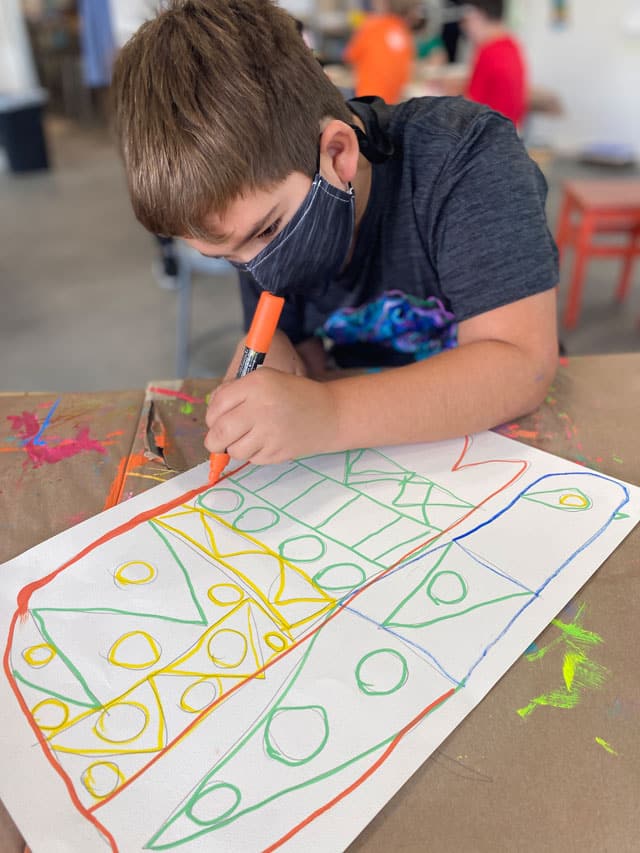 We are in the midst of the most fabulous summer!  Our 2nd "Pandemic Summer" – who would ever believe!?  Is it weird to feel like this is all "normal" now?
Whenever we need a relaxing and easy project in between some more challenging creative undertakings, we find ourselves gravitating to a bird project of some sort.  Drawing and painting birds seems to have such a relaxing and "re-setting" effect on kids.  No one ever panics when we announce we're drawing a bird!  No one breaks into moans that they "can't do it!!"  Kids have been drawing birds since they were born (along with fish) and they start off feeling confident and open minded, and it's fun to guide them into some new territory, learning new ways of designing old favorites.
The process for this project was simple!
We started by looking at examples of Sanna Annukka's art, and discussing as a class what we noticed about the shapes.  If you're not already obsessed with her, she's a British / Finnish artist known for her stunning illustration and pattern work.  She's inspired many projects of ours over the years – have you seen this amazing printmaking project we did a few years ago?
We gave kids the option of designing a vertical or horizontal bird.  After drawing with a pencil, kids traced their lines with our fav Posca Paint Pens, and then watercolored inside the shapes.  We challenged them to focus on a bit of a color matching approach to painting – if they traced a shape in a warm color, paint the inside of the shape with a warm color, and so on.  They were lovely on a white background but they felt a tad "unfinished" so we opted for a chalk pastel illumination effect.  We showed kids how to hug the chalk along the outside edge of their bird, holding the chalk sideways "on it's belly", pressing very very gently.  Then they blended with one finger, super slowly, blending out to the edges of their paper.
They were simple and beautiful.