Let's add Sanna Annukka to our list of inspirational artists for all eternity!  Feast your eyes on these Sanna Annukka Folk Art Birds two ways – block prints and acrylic paintings!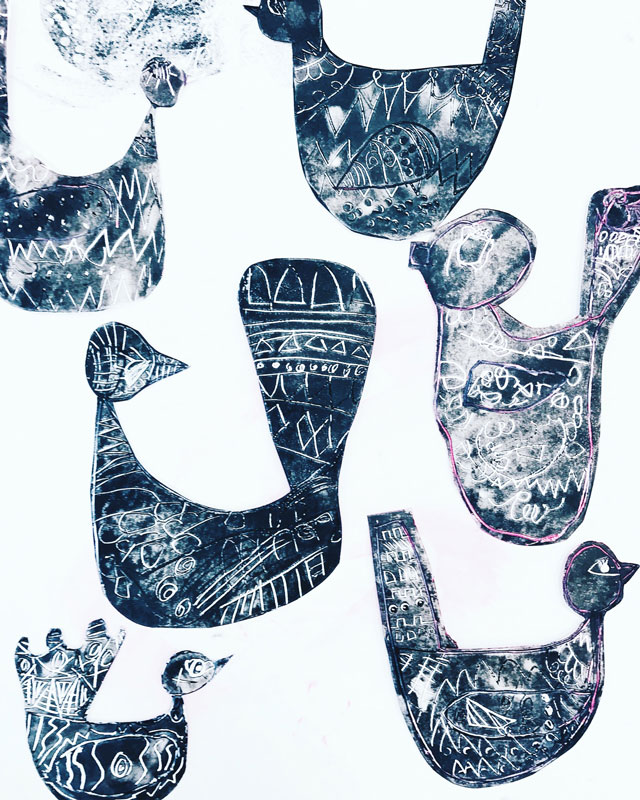 Sanna is a printmaker + textile designer that currently lives in England.  Her work is heavily influenced by the folk-art traditions from her time in Finland. You will recognize her right away as a designer for Marimekko! 
We love the colors, patterns, style, and obviously these birds!!
We were so inspired by her that we dedicated one entire week to crank out cool art inspired by her designs!  
First Up:  Sanna Annukka Inspired Printmaking
In our 5-9 yr. old class, we planned a really cool block print project using styrofoam as the printing plate.  
How We Did It:  We discussed different types of printmaking and observed some of Sanna's designs.  Then students drew their design onto the large styrofoam printing plates with a Sharpie, and traced over their lines with a small wooden stylus, "carving" into the foam.  They cut them out, and then took turns applying water-soluble block printing ink with a brayer onto their foam printing place.
The next part gets rather messy! The styrofoam pieces are then pressed evenly onto the paper to create the print – viola! Students then rinse their printing plate and add lots of texture and detail. We re-ink with a darker color and apply it directly on top of the first print.
We must have had our hands too full to take photos of the two color prints, but we managed to capture these simple single color prints, which were lovely.  And the printing plates ended up being a work of art in and of themselves!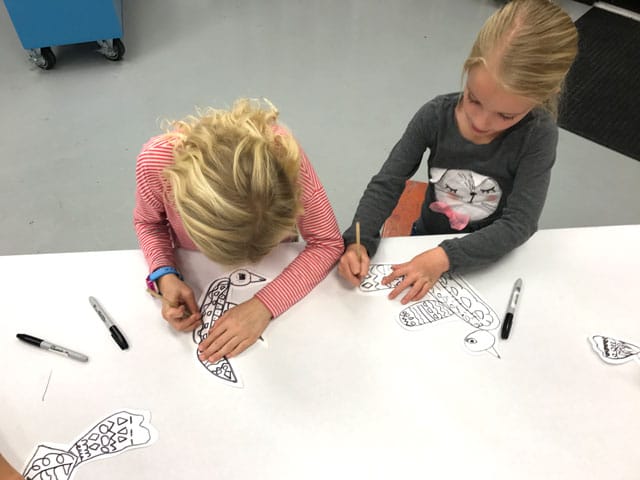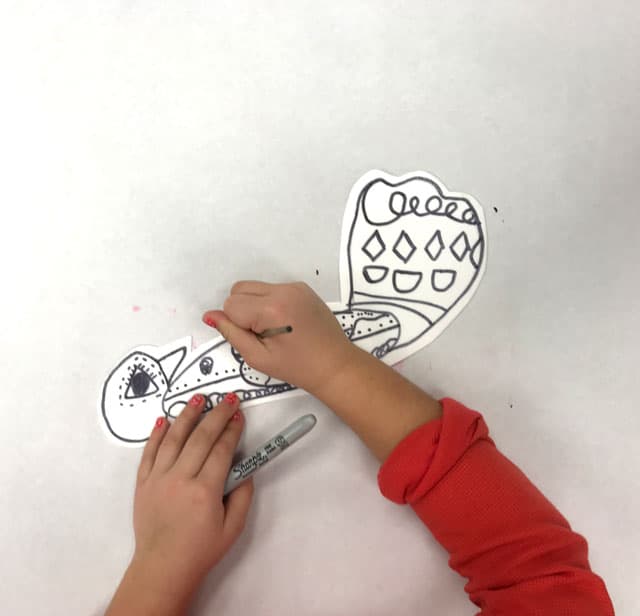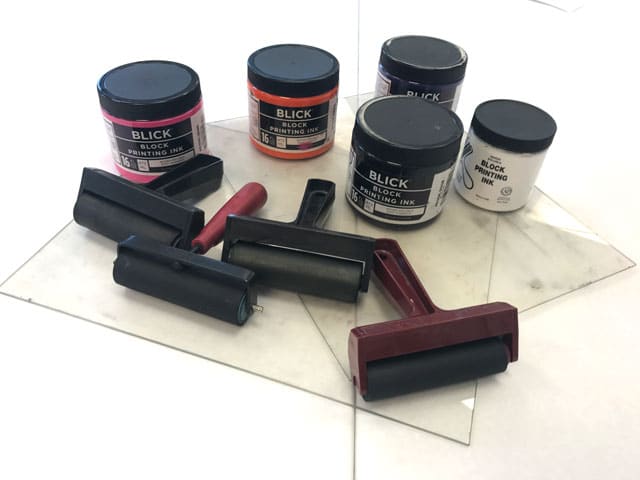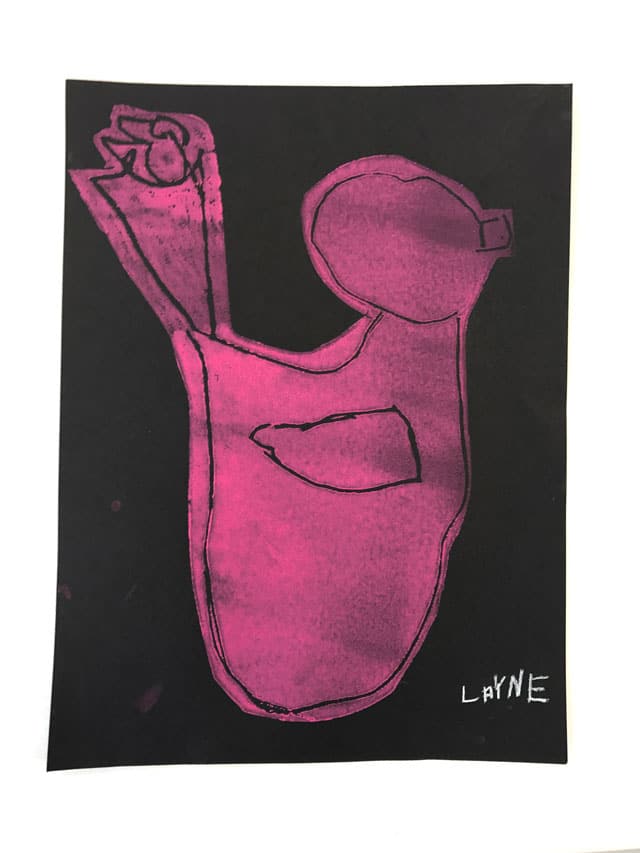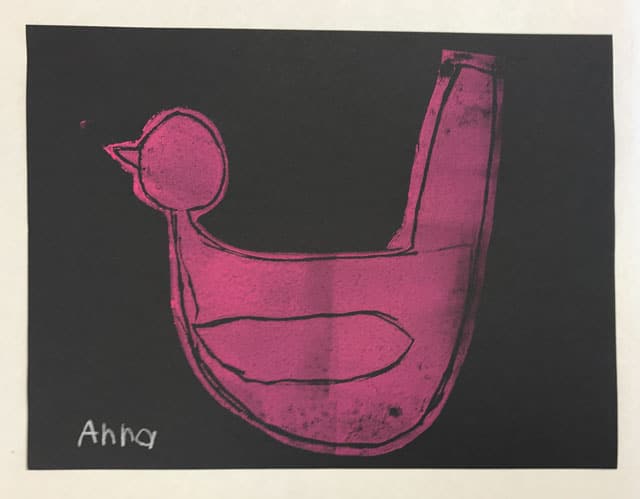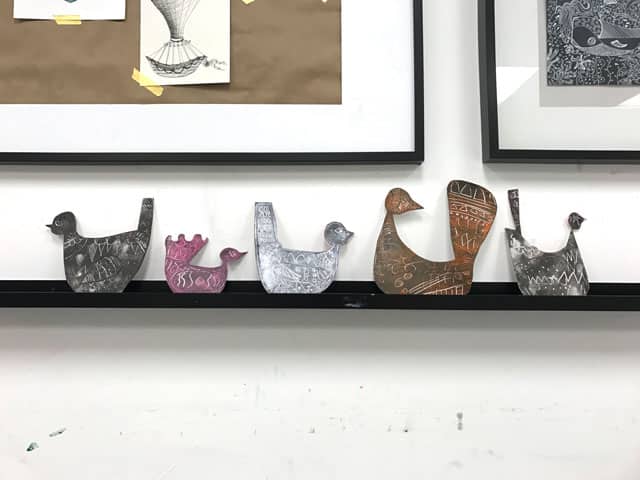 Next Up!  Sanna Annukka Inspired Acrylic Paintings
Still on our Sanna Annukka high from the previous week, we decided these weren't out of our systems yet!  So we came up with another fun Sanna Annukka folk art bird project for a snow day camp the following week.  
How We Did It:  Students drew their bird designs with white china marker on large black poster board.  They painted inside their shapes with bright colors of acrylic paint, and then chose a color they hadn't used at all to paint their backgrounds.  We loved how the brushstrokes showed the black paper underneath.   We used small strips of cardboard to dip into paint and apply line "stamps" – and some paintbrush handle "dots".
The acrylic paint dries rather quickly, so after they were dry, we traced back over them with the china marker to define their lines.  Beautiful!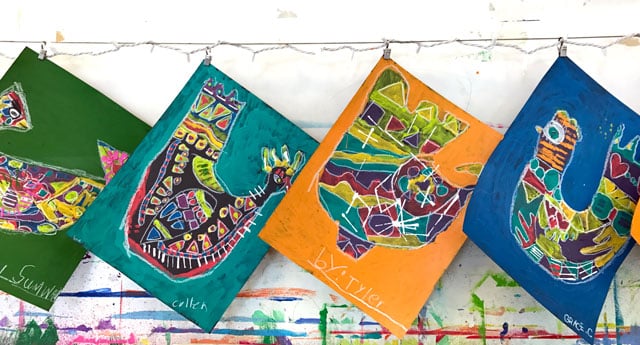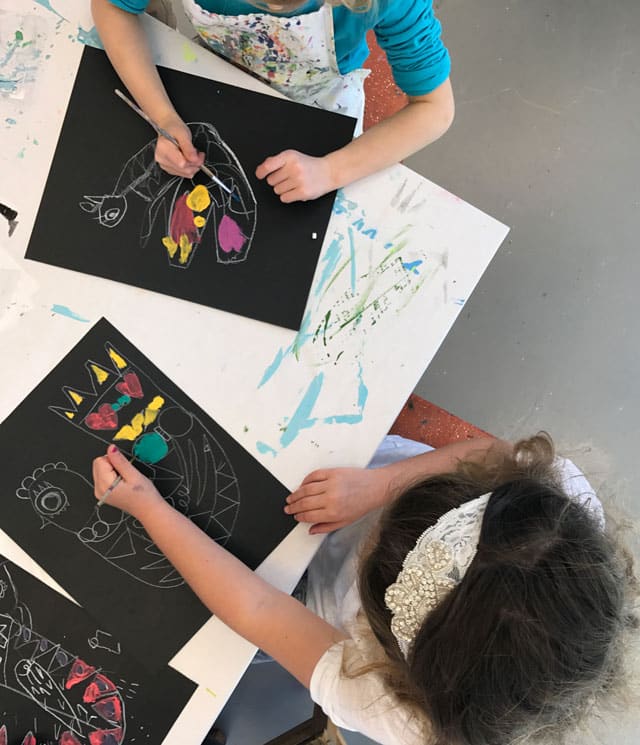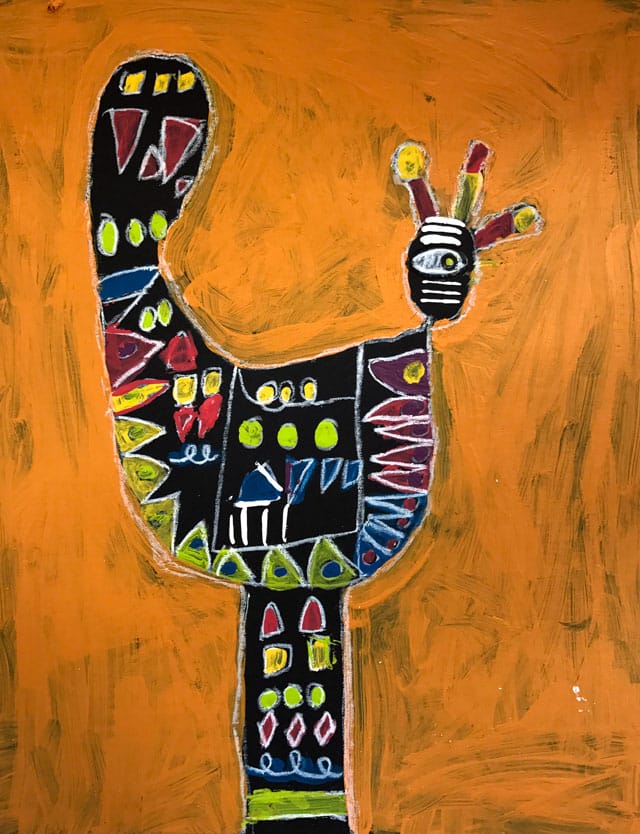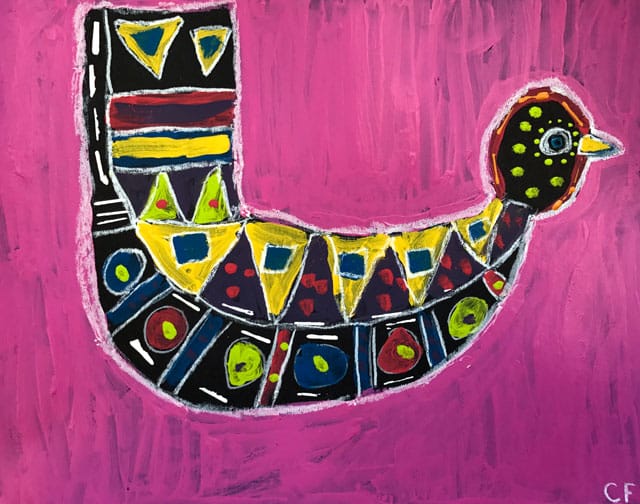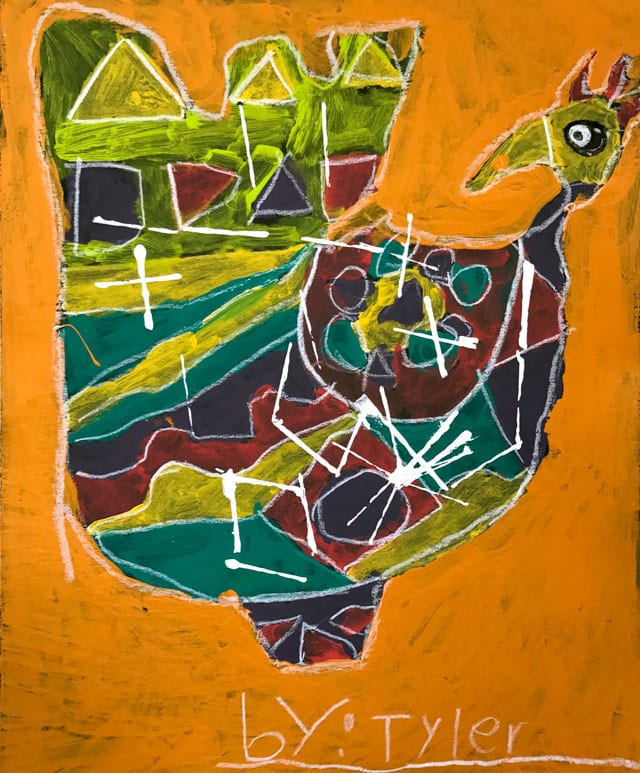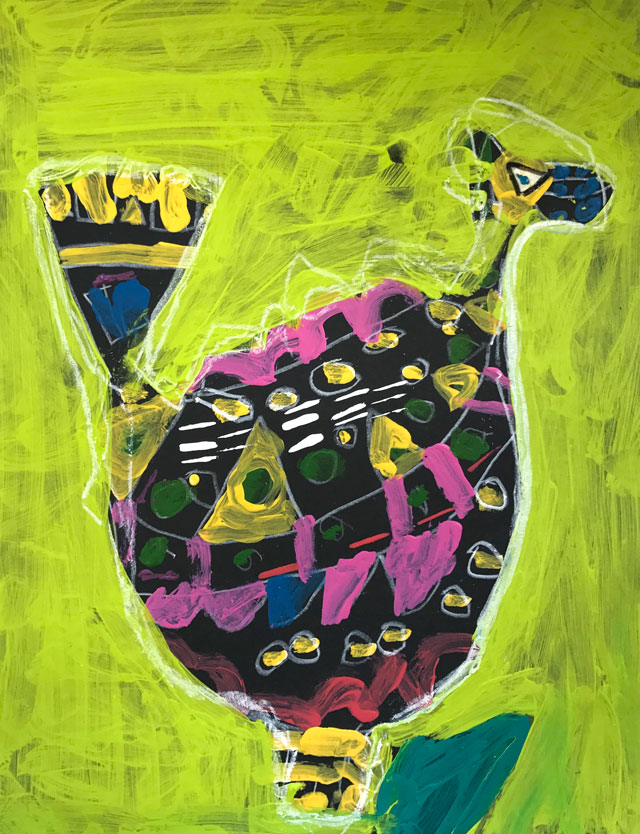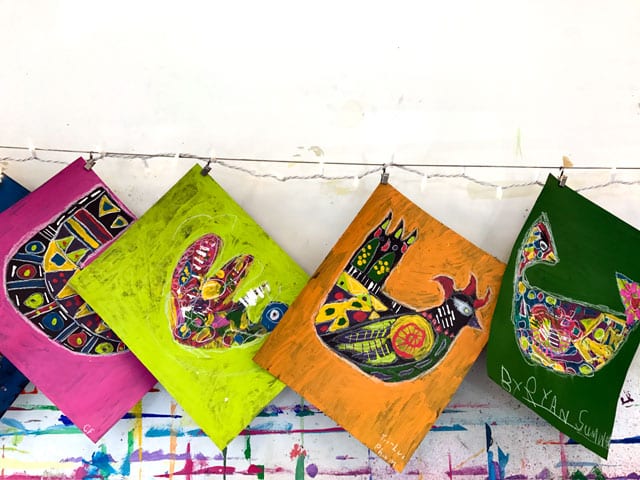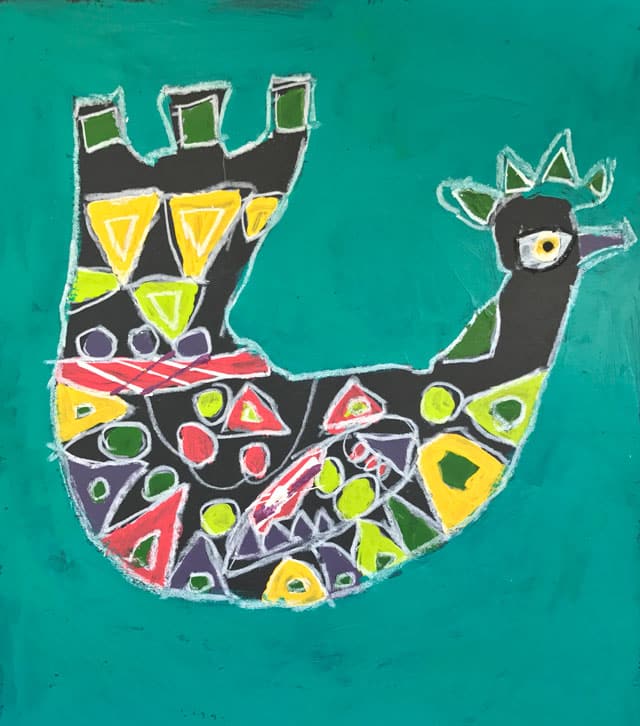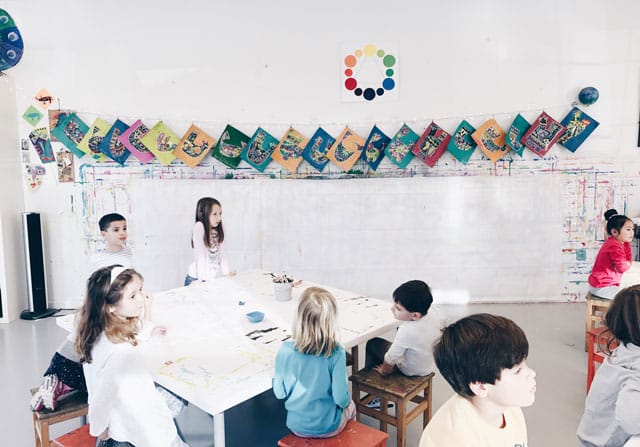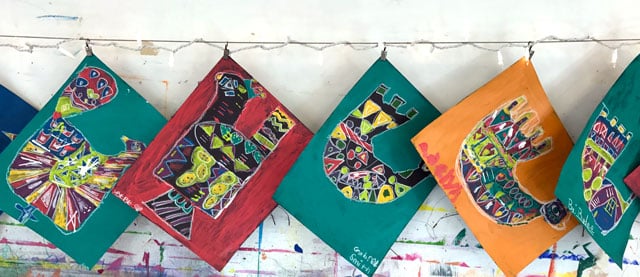 This blog contains affiliate links to products we love!