I was recently on the hunt for some new linens for our cabin when I discovered artist and designer Shell Rummel's line of dreamy textiles, and ended up lost for days down a deep rabbit hole.   For some reason I found the natural colors and textures of her saltwater seaside inspired pieces to be exactly what was needed to balance some of the more rustic decor in our woodsy mountain retreat.  I have to confess that my obsession has now expanded to her beautiful paintings, this specifically.   Her art is peaceful and calm, fluid and tranquil.  Getting lost in her work is like a deep, restorative exhale. Follow her on Instagram– your stress level will instantly go down 5 notches!
We're in the midst of summer camps right now – the studio is abuzz with lots of creative little people exploring, making, building, tinkering.   This two day project was slow and meditative and was the perfect re-set to a frenetic week of fast & furious art-making!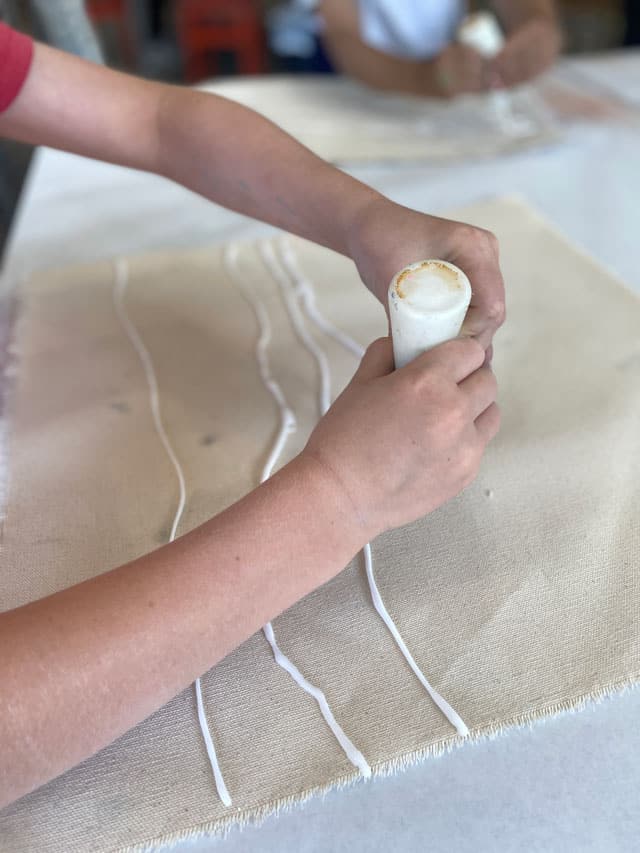 We used a heavyweight cotton duck cloth (unprimed canvas) but this would work just as well on any fabric or paper (we plan to try it on watercolor paper soon).
Day one we looked at & discussed Shell Rummel's work and talked about what her lines and brushstrokes evoked (even young kids who have never seen the ocean felt a water vibe), and how it made them feel.  Without spending too much time talking about where this was all going to go (or really even having a clue ourselves), we simply had them apply soft horizontal lines of glue (we just used regular school glue).  The key to making this step successful is to press the glue bottle to the table, maintaining contact as if it was a marker (vs. holding it the air and drizzling).  Start at the top of the fabric, and work your way down.  If you work from the bottom up, kids tend to lay their arms in the glue.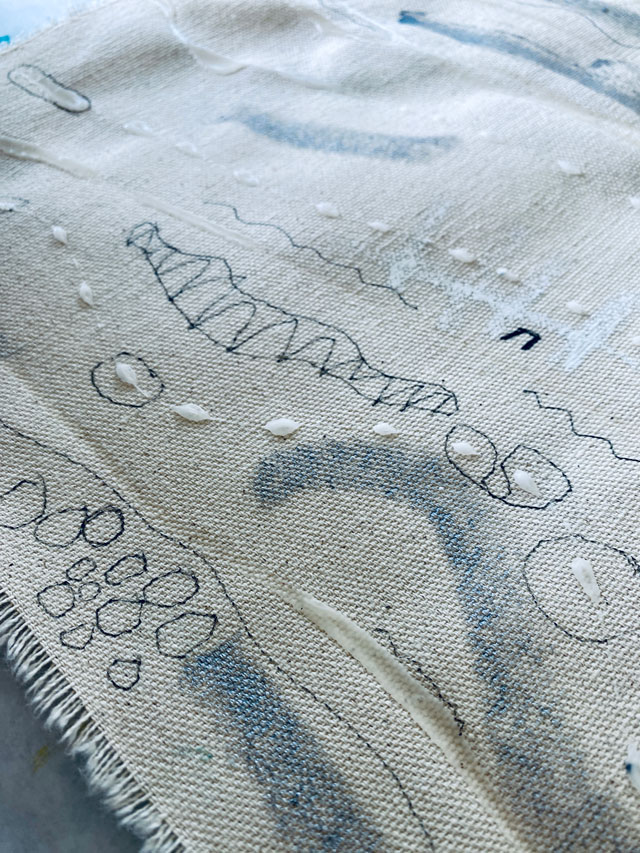 We let the glue dry overnight, and the next day we worked back into them with fine tip permanent art pens.  We love these Pilot Precise Extra Fine pens – the ink flows smoothly and doesn't bleed.  We looked again at Shell's line work – the smooth continuous contour lines, the fine details.  There was really no right or wrong here, kids just quietly traced the lines of their hardened glue, stopping here & there to circle bubbles, or make repeatitive wavy lines.  Letting the pen flow along the bumpy canvas was really relaxing!  We talked about how the bubbles looked like sea foam on the ocean waves.
At this point, we also went on top of our hardened glue with some white and silver oil pastels, in an effort to create a bit of a resist once we applied watercolor.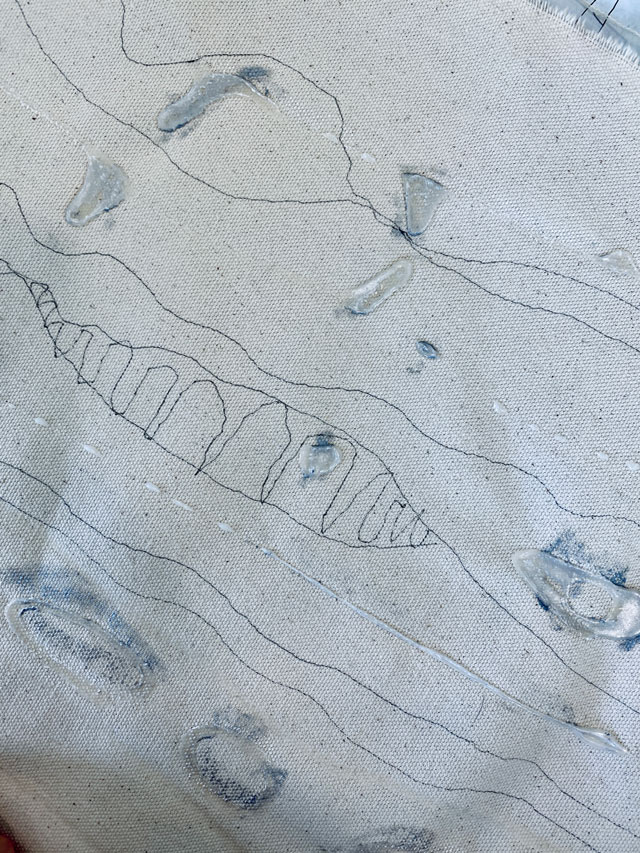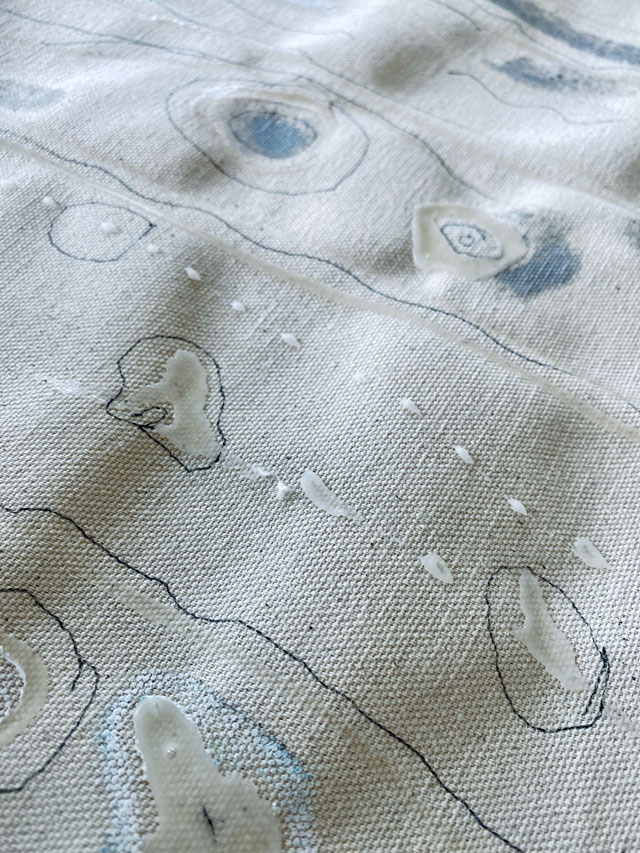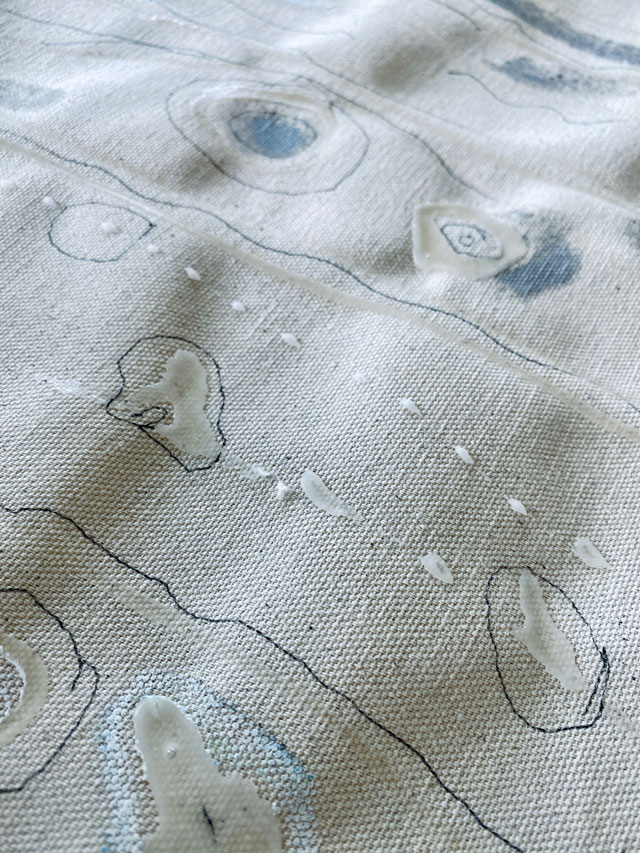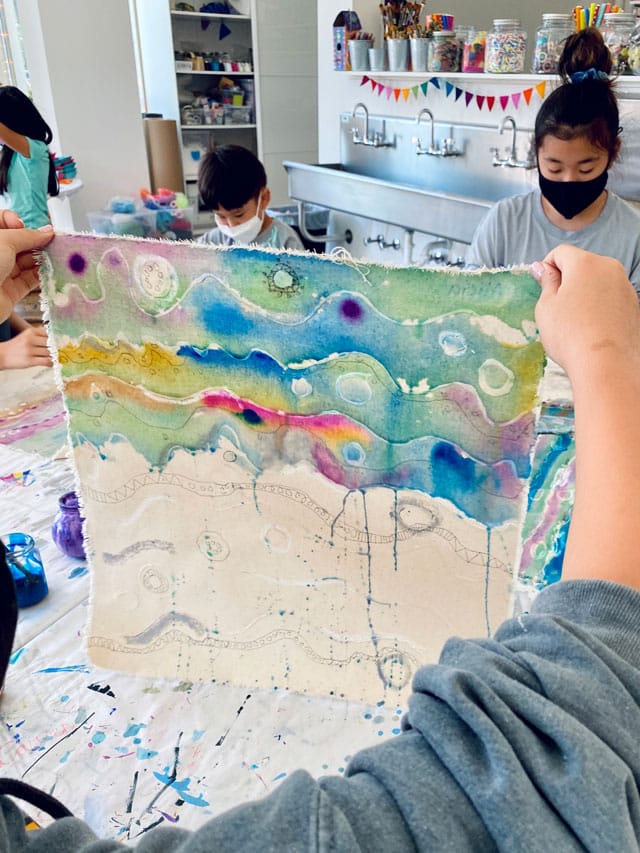 Working horizontally, starting at the top, students first applied water to the fabric to give the paint a wet surface on which to flow.  Then they brushed and dropped colors of liquid watercolor onto the wet canvas very sparingly, giving the paint time to flow and move.  We encouraged them to hold their canvas in different directions to watch how the paint colors mixed & mingled.  We mostly worked with cool shades of blues, turquoise, greens & purples, along with a few more natural tan & yellow colors.
There was a lot of experimentation and sharing and admiring each other's work involved and everyone seemed to really enjoy the PROCESS of making these beautiful masterpieces.  We set them outside in the sun to dry, and flattened them with some heavy books to soften any wrinkles and curled edges.