This Textured Paper Fringe Wall Hanging project was inspired by our friends at Raw Art Workshop in Australia.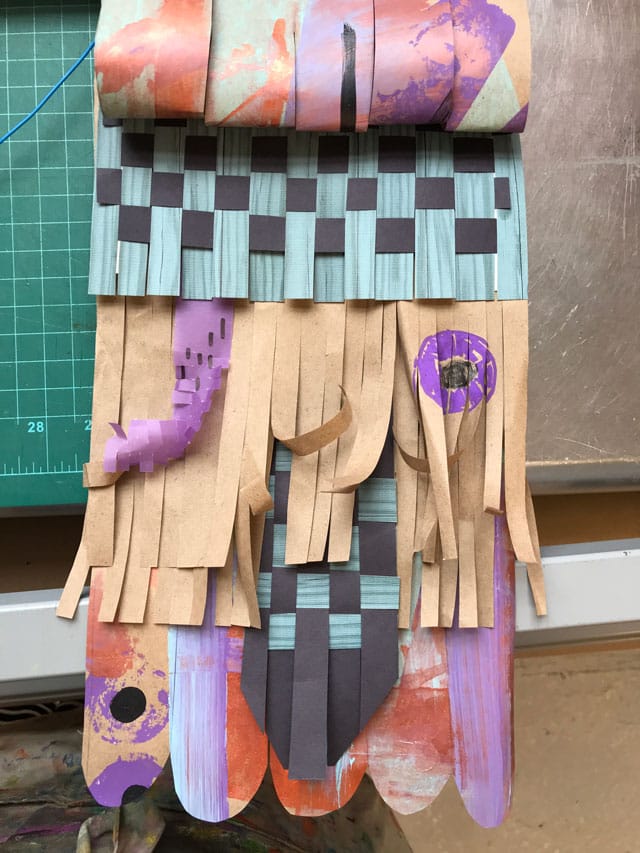 One of our favorite kindred spirits to follow on Instagram is Raw Art Workshop in Australia!  They are such a continual source of magnificent creative inspiration!  We admire their distinct style which shines through in the creations of the little artists they teach!   And they also seem to love layering different types of mediums as much as we do (chalk or oils rubbed onto painted papers decoupaged on cardboard, and so on)!  Our only complaint is we wish they'd do more talking in their Instagram stories! Cause we love a good Aussie accent!
When we first laid eyes on this textured, fringe-y paper wall tapestry on their feed, we lost our minds a little.  We loved the simplicity and creative use of up-cycled materials.   And how paper was such an unexpected medium for a this type of wall tapestry!  We loved the dramatic colors, shape & form of these amazing wall hangings and couldn't wait to introduce it to our 9-12 yr. old class!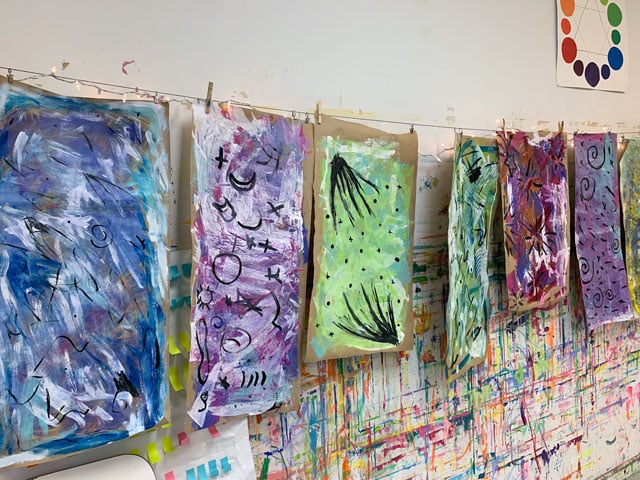 As additional inspiration, we looked at traditional fabric and fiber texture wall hangings.  We observed the layers of yarn & fabric, texture and blocks of colors that worked together to create a pleasing effect.  We discussed how to transform flat two dimensional art materials into an interesting three dimensional piece with texture.   And we talked about the challenges that they could anticipate while trying to create this effect with paper instead of fibers.
To prep the materials, the class layered some rich acrylic paints on 50# kraft paper.  The color palette was limited to no more than three colors, with some black and white accents.  Limiting the range of hue seen within the art piece can help provide unity, as well as convey emotion.  Students used various tools to create depth and texture in their paint, such as old credit cards to scrape, patterned sponge rollers, and texture paint scrapers.
As their painted papers were drying, they sifted through mounds of colorful, patterned scrapbook paper to find sheets that would compliment their palette.  That's as far as we got in the first week's 1 hour class.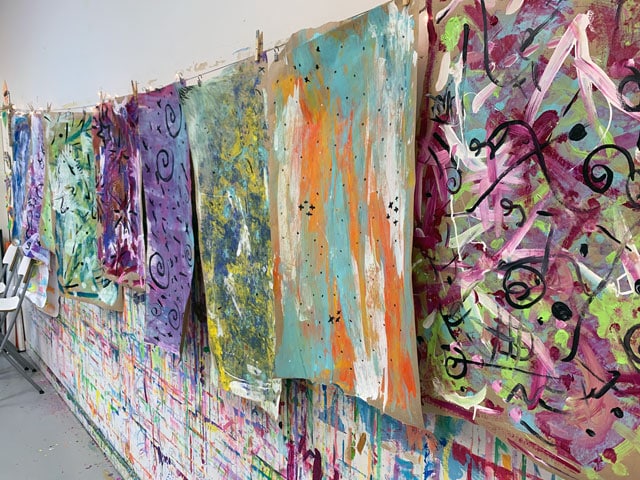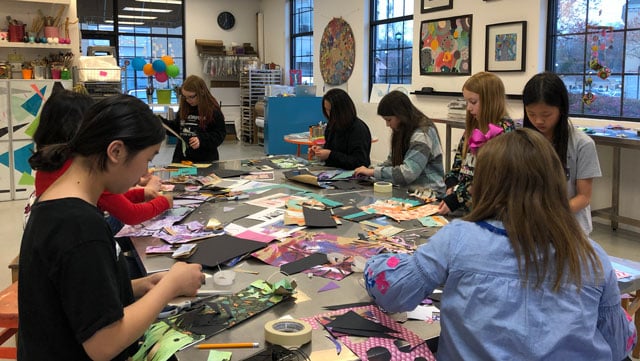 The following week, it was time to start cutting and arranging their layers of paper.   The goal was to create a layered, sculptural wall hanging using various cutting, folding, twisting & weaving techniques.  Once they got going, they realized how limitless the possibilities were!  They could create interesting lines by making accordion folds.  The paper could be 'spun' into a type of twine by rolling and twisting it into long cords.  Students could cut or tear layers of fringe and curl the edges by rolling them onto a dowel or marker.  They could create dimension and depth by folding or crinkling papers.  And the list goes on and on…
After manipulating all of their raw materials, they arranged and re-arranged the placement of their pieces until they settled on an overall layout that they were pleased with.  They had to decide which order they wanted their papers to cascade & descend. 
To assemble the sculptures, we used a heavy mat board base.  They worked from the base layer up, using masking tape and glue sticks.  They were careful to focus on craftsmanship as they strived to make the tape and glue invisible.  The overall construction had to be strong and stable.
Lastly, some chose to embellish their sculpture with black and white contrast in a meditative drawing session of tangling.
They came out really stunning, don't you think?  Thanks again, Raw Art Workshop, for inspiring us to try these!