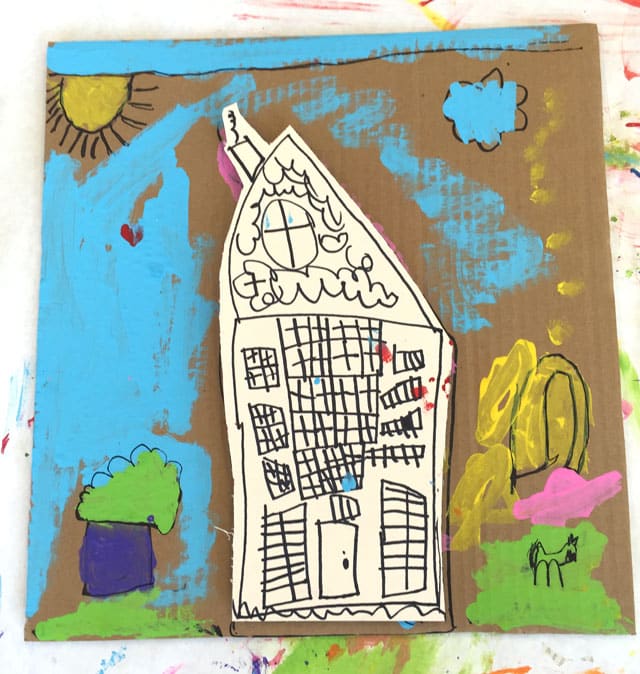 The theme was "Home" in yesterday's Thanksgiving Camp!  We were so pleased with the result of this super fun project 3D Illustration Art Project we came up with sort of "off the cuff"!
The concept was for students to draw the exterior of their house (or apartment), and then attach it with a magnet to to top of a piece of cardboard so that when it was removed it revealed the colorful interior. This 3D Illustration Art Project is so symbolic of what we are grateful for during this season.
We gave students the choice of either drawing symbolic things on the inside (hearts, etc.) to represent what made their house a "home", or to draw a few particular details in some of the rooms (we encouraged them not to think literally, but rather symbolically).  For example, one girl spent most of her time drawing her grandmother giving her a bath in the bathroom.
We first had the students draw their exterior on white heavyweight poster board, cut it out, then trace it onto a piece of cardboard so that they aligned.  Then we had them focus most of their time on the interior. After drawing details with a Sharpie, they painted with acrylic.  As a final step, we glued a metal washer to the inside of the house and a magnet to the back of the exterior so that it could attach easily.  We were initially going to paint the exterior of the house as well but we ran out of time, and I have to say in the end we preferred the simplicity of the black & white and thought it emphasized that it's not the outside that matters, it's what's on the inside that really counts.  Great project!