The inspiration for this fantastic chalk pastel relief sculpture is the colorful villa of Manarola, Italy!
Manarola is the smallest villages of the Cinque Terre in northern Italy, and sits perched upon a rocky cliff overlooking the sea. When you can't go to Europe in the summer because you run a bustling art studio, you bring Europe to the art studio with a fun and bright chalk pastel relief sculpture!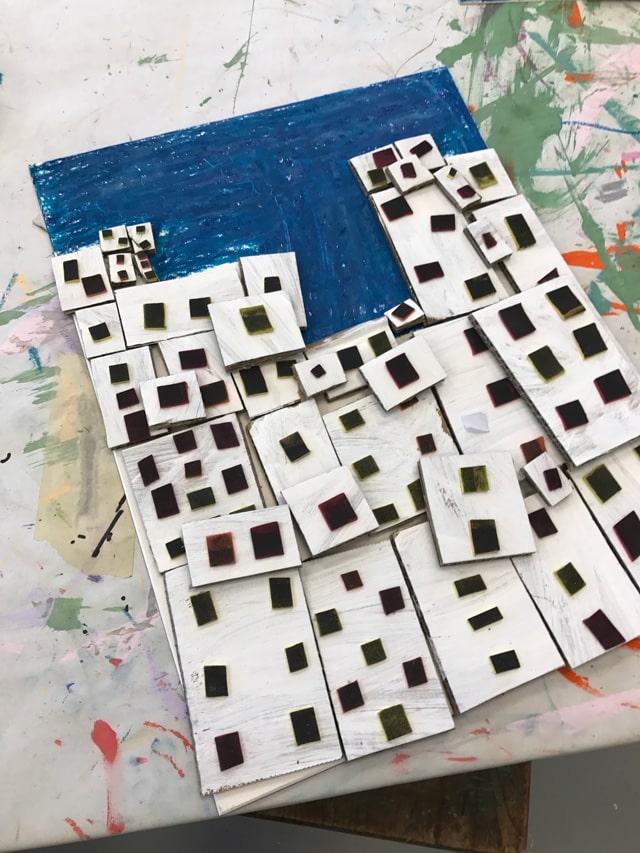 We started by using up some small pieces of cardboard that had been painted white.  This created an excellent toothy surface for the chalk pastel the students would use later.
As a class, we observed photos of Manarola, and introduced some very basic concepts about perspective.  We talked about how it looks like all the houses are stacked on top of each other, and discussed how the smaller houses are towards the top of the cliff (furthest away), and how they would have smaller windows than the larger houses that were closer to the viewer.
For the windows we used tiny black self-adhesive foam pieces.  For the smaller buildings they had to cut the windows into even smaller shapes. Then arrange their pieces so that all the buildings were touching and they had at least four buildings that overlapped on top of other buildings.  We also discussed how the horizon line may appear differently for each of them, depending on how much of the ocean they could see beyond their cliff and off to the side.
Students applied chalk pastels and used Q-tips to gently blend the pigment.  We discussed how the buildings that were closest to the viewer would be most vibrant, and the smaller houses would be lighter and more muted. All of them working together to create the illusion of a cluster of tiny, colorful homes! We really loved how this project turned out. It got our brains spinning on what other interesting architectural scenes we could turn into a chalk pastel relief sculpture.