Another fun project inspired by one of our favorite artists: Melanie Mikecz Collaged Zebras!
Today was the first day we tried this project and I'll be honest – we nearly aborted it about four minutes in! It's challenging for 7-11 yr. olds to draw a zebra!  Try it!! We ended up with a lot of zebra-ish drawings around the room, so we decided to forge ahead!  Having stuck with it, I feel confident in saying no matter how distorted or what the shape the bodies end up looking like, these will be super amazing when they're finished! We love how these Melanie Mikecz Collaged Zebras turned out!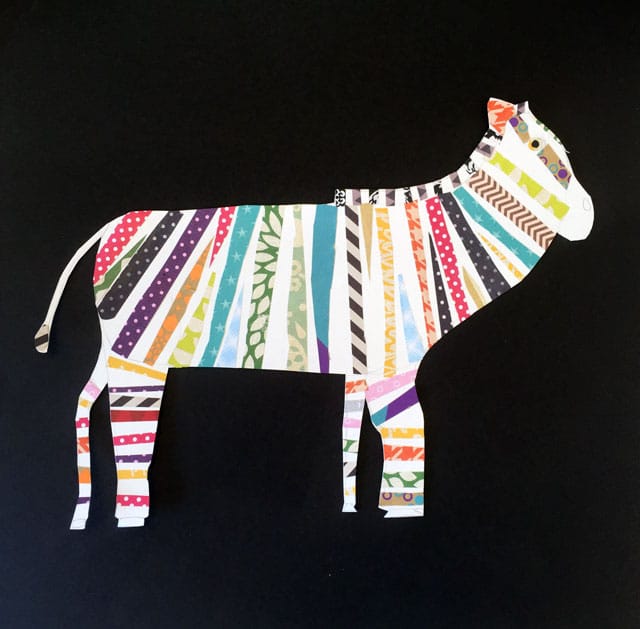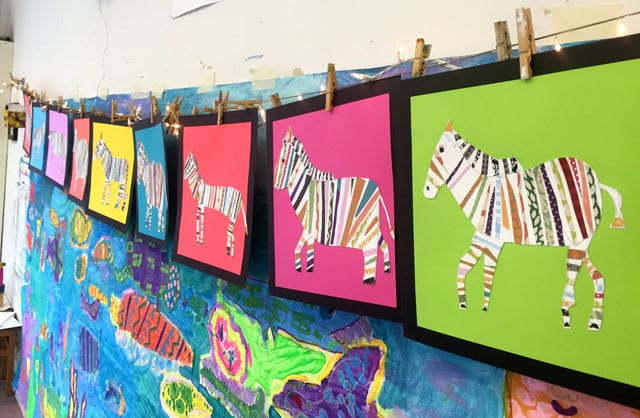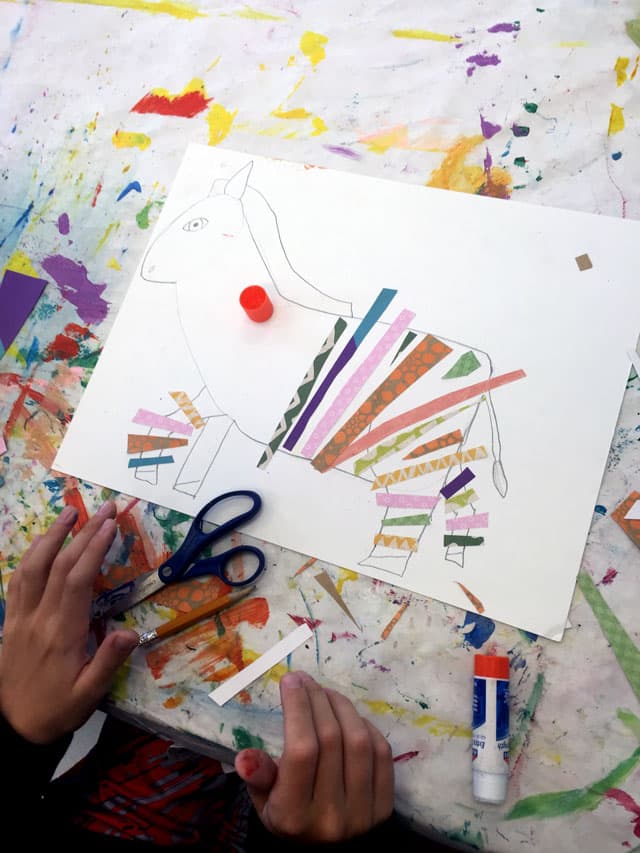 We used heavy white poster board as the base for the zebras.  A few key tips:  Instruct students to cut the strips a little longer than needed because the excess will be trimmed off when they are cut out.  Otherwise they most often cut the strip too short.  Also show them how to angle the strips of collage paper around the hind end of the zebra, and encourage them to insert tiny triangles of colored paper in any large gaps.  Also, the stripes on the legs need to be proportionate – so very tiny.
We chose to collage the mane with tiny strips of dark paper, and add a little detail around the eye and hooves with colored pencil.  Maybe next time we'll do a solid color for the mane?  What do you think?
We went back & forth on the background.  Students had painted a tempera gradient wash on a piece of cardboard earlier to use as the background, but these ended up so delicate the background seemed overpowering so we opted to just mount them on a piece of colored card stock with a larger black poster board frame.  The collaging takes a lot of time – they worked on them for an hour and a half & needed a lot of encouragement to "keep on gluing!!" But they were so proud of their Melanie Mikecz Collaged Zebras when they were done!  Very striking!  I love all of the different shapes & sizes!