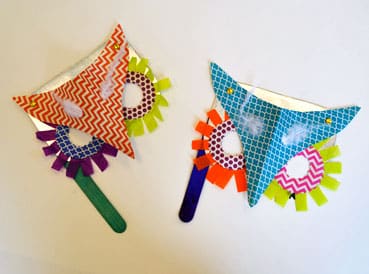 We were the recent beneficiary of about 6,000 foil "to go" box lids that our generous next-door neighbor, Switchin Kitchens, no longer needed.   "Necessity is the Mother of Invention" and when faced with the decision of moving the gravity-defying stack from one side of the studio to the other again, or figuring out what to make with them, we chose the latter and decided to make Owl Masks for our Fall Festival!  The shiny foil side looked neat, but honestly you could make these out of a cereal box and they would look just as cool!
The design is so simple it hardly calls for a step-by-step.  The pictures pretty much speak for themselves and hopefully they inspire you to come up with your own unique design!  How about a different woodland creature?  A fox?  A baby hedgehog?
One particularly clever design feature of our owl mask, if we do say so ourselves, is the 3D raised beak.  We folded the beak/ear piece of scrapbook paper in half before cutting it out (so both sides were symmetrical), and then punched holes in the base of the mask and the beak/ear piece of scrapbook paper so that when aligned and fastened with a brad, the beak is raised.
Happy Fall!