Tomorrow's forecast is calling for several inches of snow in Charlotte.  Weeks like the one you're about to have demand a whole new level of parental coping skills.  So we thought we'd share a little indoor Art Game Idea that Miss Katie played extensively while growing up in the frozen tundra of Minnesota.
The Crayon Game – Art Game Idea
Judging by the frequency in which she brings it up in conversation, "The Crayon Game" clearly created quite a lasting impression on Katie's energetic little four-year old self.  So much so that I sometimes secretly wonder whether she continued playing it through high school.  So I asked her to lay out the rules for us to share with our eager readers. Do not be fooled by its deceptively simple name; The Crayon Game is a complex challenge of speed, agility, & color theory.
Note:  Katie was adamant that credit be appropriately given to her super-imaginative-twinkie-and-soap-opera-loving babysitter (my words not hers), who concocted this little gem after what we can only imagine was a morning filled with incessant pre-schooler chatter and inquisitiveness.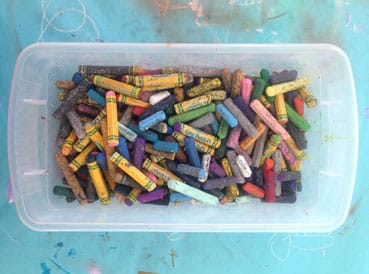 Rules:
1.  Set up the "End Zone" with an empty bucket at one end of the house, preferably in the kitchen near chocolate.
2.  Strategically place a bucket of crayons at the extreme opposite end of the house (or culdesac, weather permitting).  Crayola sets of 152 or more colors work best, for reasons that should be glaringly obvious in Rule #3.
3.  Plays are called out by the Referee (you or your oldest child) in a dramatic sing-song-y voice: "Twelve points for a Buuuurnt Siennnnnnna!" Players excitedly scurry to retrieve ONE crayon of the specified color.
4.  Referee relaxes with a handfull of Oreos, periodically checking Facebook, while waiting for players to return.
5.  The first Player to return to the End Zone with the correct color wins.  Regardless of time, players are disqualified for retrieving multiples of the correct color, or retrieving incorrect colors (i.e., mistaking Burnt Orange for Burnt Sienna, Red Orange for Orange Red, and so on).
Play continues until the tub in the End Zone is full, after which point winners can advance to the Playoff Challenger Round and, ultimately, the Final Jeopardy Round, by creating even more distance between the tub of crayons & End Zone.
As you can see, the possibilities are endless and can result in hours of play.  Advanced levels can be added when timers or stopwatches are used, bonus categories are added (for example, double points for "warm" or "cool" colors, etc.), and drawing prompt face-off challenges like "5,000 points for drawing a Dancing Pickle with a Periwinkle!"
Scoring:
The scoring system should be totally random, at Referee's discretion, and intentionally designed to capitalize on the players' lack of understanding of numerical values.
Duration:
The duration of this game can range anywhere from 45-90 minutes for players age 3-5, or 45-90 seconds for older children (in which case, consider assigning them the Referee role).  Play can be extended by including neighbor kids and setting up crayon repositories at other houses on the block.