We have amazing local artists in Charlotte, like abstract artist, Amanda Moody, to name just one.  Take a moment to get lost in her amazing creations on www.bombshelves.com.  
We have oohed and aaahed over Amanda Moody's Instagram feed for a while. Recently we had the pleasure of meeting her in person at Acquisitions Interiors, that was hosting an art exhibition of her work. 
Amanda's artwork is stunning and truly inspiring.  It's hypnotic and mesmerizing and casts a spell on you!  And Amanda kind of had that same effect on us!  That's the only explanation for why a few days later I came into the studio to discover Katie had snuck in early, consumed at least three espressos, made a huge mess, and this!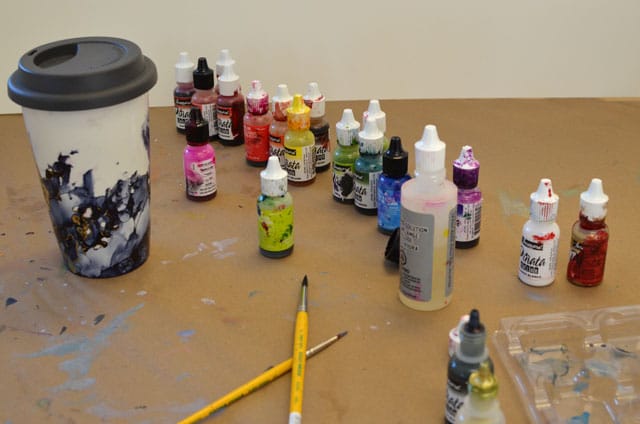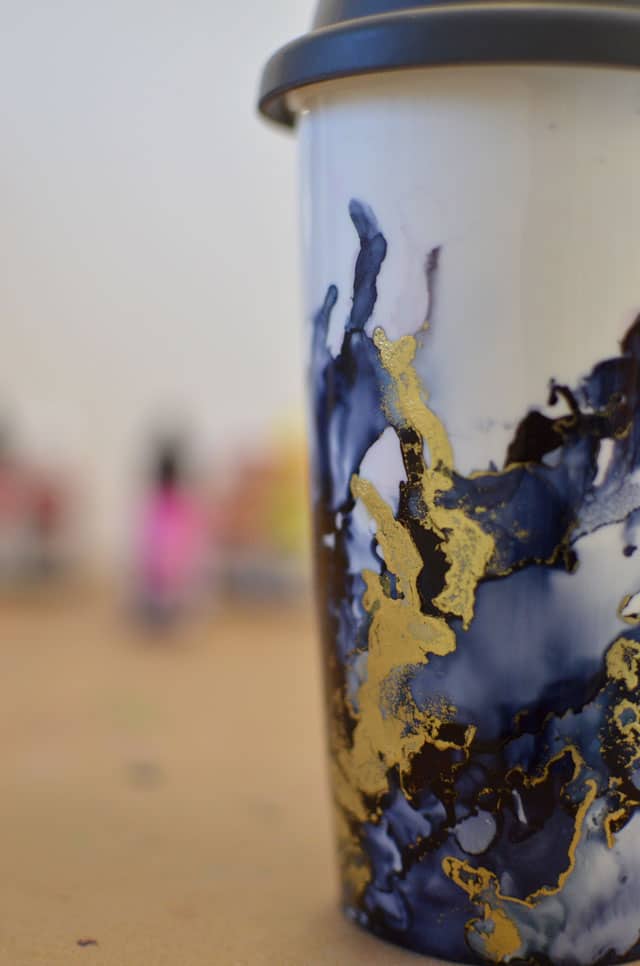 We have this epic crew of 12 -15 year olds with us in the studio for an hour and a half on Thursday evenings.
They are brimming with creativity, excited to learn, and genuinely the sweetest tweens and teens you ever spent an afternoon with.
We began playing with alcohol inks earlier this fall at the Isabella Santos 5K. We've been looking for exciting and safe opportunities to weave this unique material into our curriculum at the studio.  The perfect fall day rolled along, which conveniently coincided with the super moon and a huge stack of 7″ metallic coated "to go" container lids. With the doors flung open wide, these teens suited up with gloves and got excited to play with some pigment.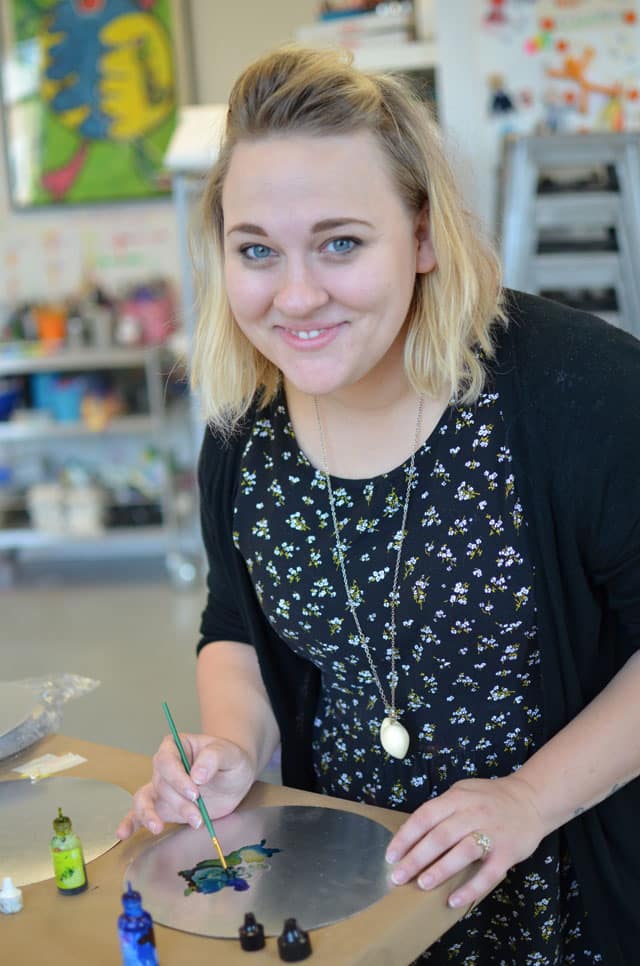 Katie showed images of Amanda Moody's artwork to our class, and we observed her use of layers and strategic color choices. She discussed how part of what makes her work so intriguing and ethereal is that it looks completely natural. Like when you stumbled upon an explosion of natural pigment swirled with agate and ash, and submerged under water.  The class explored the concept of creating a visual language within our work that was similar.
How do we create an art piece that is manipulated and "controlled" but that also appears uncontrollable? 
After demonstrating multiple techniques of applying these inks – dropping directly onto their metallic foil surfaces, applying a layer of blending solution first then a few drops of ink, applying ink with a brush, letting gravity strut it's stuff – we let these artists loose with the materials. Part of the process that was so beautiful was seeing a 13 year old lose themselves in their own creativity.
Feast your eyes on these beauties.