Sometimes you spend a day hard at work. And other days you spend the day painting in your studio. If you are Amanda Moody, your hard work takes place in the art studio – and man, are we jealous of her creative life!


Amanda Moody cultivates an amazing array of abstract and pigment-loaded compositions using alcohol ink and resin.  It seems apropos that her website & Instagram handle is "
bombshelves
" as the pigment appears to organically explode like a bomb on the canvas. We are in love with Amanda's color theory, and having the chance to peek into her studio while she worked last week simply made us swoon all the more.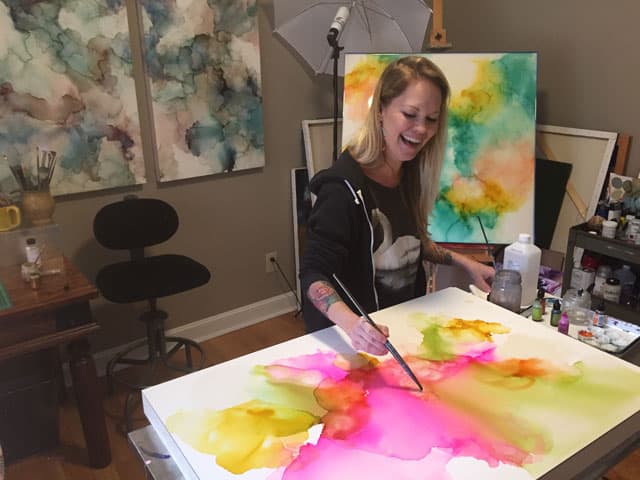 Amanda's energy and enthusiasm for her craft is contagious!  She described how she literally bounces out of bed at 5 am (or was it 4??), so excited and anxious to get into her studio and start at it!  We wish that kind of passion on everybody!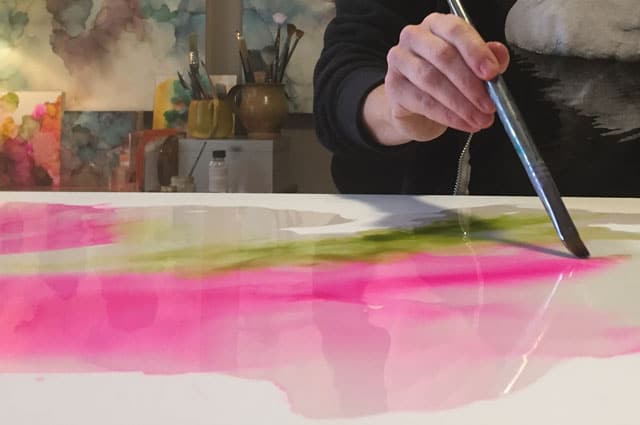 .
.
We were fascinated to be able to watch her paint.  Amanda works on a very large scale, often creating diptychs or triptychs of her paintings.  We were just casually chit-chatting then all of a sudden we had to jump back when, without warning, she splashed a liberal puddle of alcohol directly on her painting surface!  Before we could blink, a generous drizzle of hot pink was already dissipating in the liquid and dancing across the surface.
She watched and followed the movement of the pigment, letting it flow where it wanted to flow, then gently manipulated, blended, and re-directed as she felt the need.  She played with the contour, consistency, and vibrancy.  She waited… she layered…she layered some more. We were mesmerized and tempted to cancel our plans for the rest of the day to see where this was going!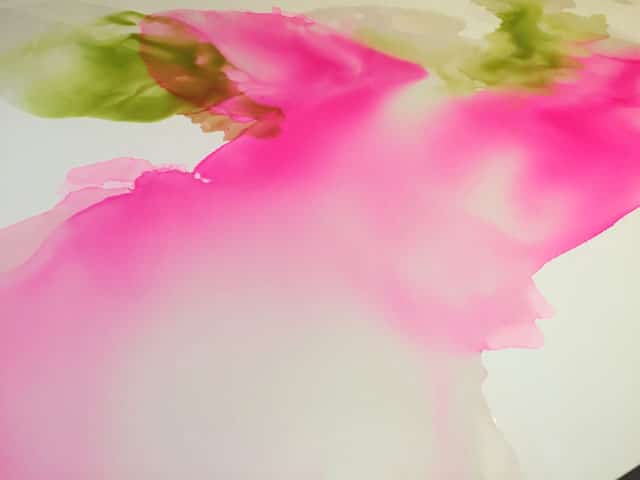 .
The finished works that Amanda creates appear to be an uncontrollable and organic accident. However, Amanda has carefully cultivated each drop, blend, brushstroke, and breath within the natural movements of the medium. It's dangerous work, creating with the uncontrollable.
The moment we stumbled across
Bombshelves
on Instagram our creative team was mesmerized by her artwork. After some hardcore Insta-stalking, we were lucky to meet her at a showcase of her work at
Acquisitions Interiors
.  Meeting her and seeing her pieces in person inspired us to do a 
"Super Moon" project
in our 12-15 yr. old class at
small hands big art
the very next week!  If you are on the hunt for that perfect piece of art to shine in your home or business,
Amanda works step by step
with each client to create a color palette and flow that suits your style and space.
Stay tuned! We're sure you'll be seeing and hearing more about Amanda in and around the Charlotte art scene in the months ahead!
.