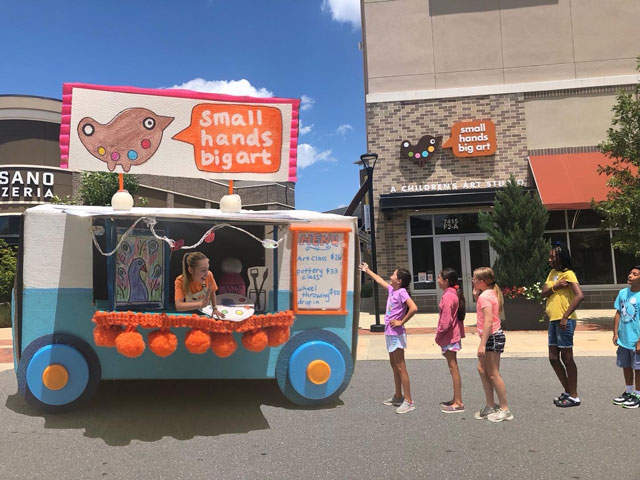 The maiden voyage of our brand new state-of-the-*art* (wink wink) SHBA MOBILE was a wild success! Our wildly popular art classes in Charlotte, NC just got a glittery little sidekick!
Ready.  Set.  Art.
To say we were completely caught off guard by the overwhelming response is an understatement!  By rough estimates, at least 50 families were camped out on The Terrace at Waverly when we rolled up at 4am Saturday morning (having all slept in our SHBA aprons, we were sooo excited!).  By 7:07am we were completely out of glue, glitter & funnel cakes, frantically rifling through cabinets and drawers trying to find our secret sparkle stash.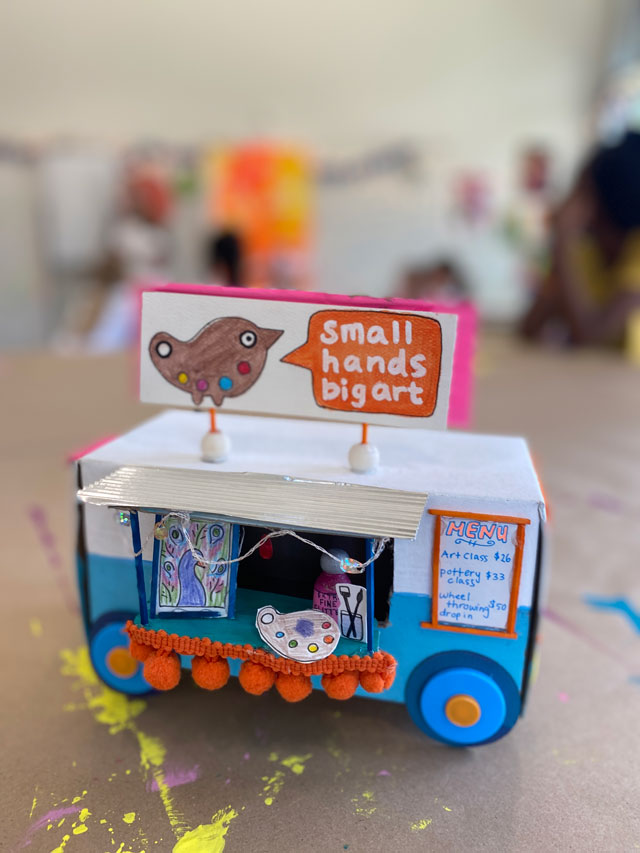 Shout out to local RV builder StefaniaLasagna Custom Conversions for building the SHBA art mobile of our dreams!
They just plugged in their hot glue guns (figuratively speaking, of course) and said "trust us" – and trust them we did!   We gave their team full creative license – the only "non-negotiable" we knew we couldn't compromise on was that it had to stick to SHBA brand standards, and have the overall look like a kid built it.
You tell us:  did they NAIL IT?!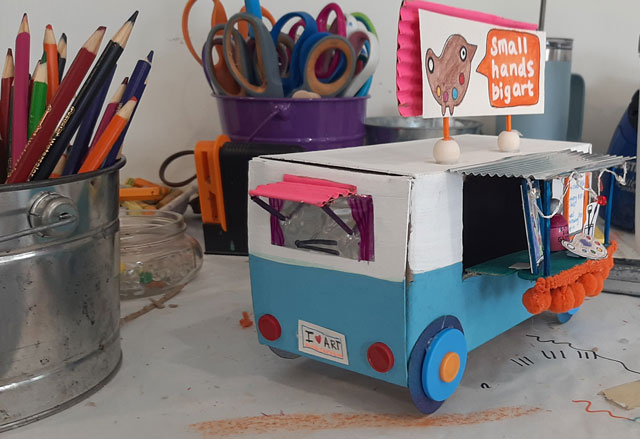 We'd be lying if we said we haven't been fantasizing about making this dream a reality since we first forayed into the world of mini campers / flea market carts.  Small Hands Big Art can now better serve the greater Charlotte area, delivering quality art education to the South Charlotte, Ballantyne, Arboretum, Pineville, Matthews, Mint Hill, Waxhaw & Weddington communities!
After a massive art supply re-stock and a little touch up where some jewels were dislodged by the crowd (fully covered under warranty – whew!), the Small Hands Big Art Mobile is all gassed up and ready for it's next adventure!  We'll be announcing our 2022/23 World Tour soon – and the cool thing is YOU get to help us plan our itinerary!  Tag a friend if you'd like the Small Hands Big Art Mobile to pop up in your neighborhood or at your next party or gathering (will work for cupcakes or iced coffees).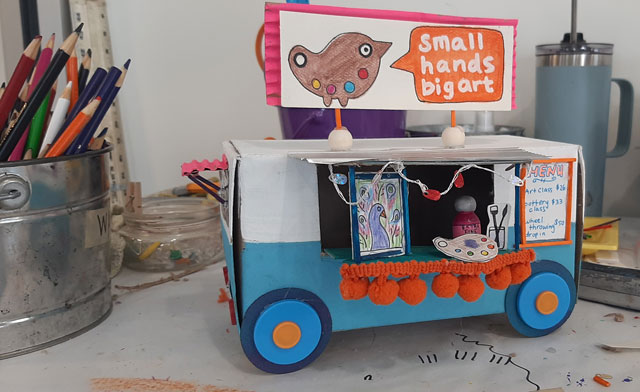 PS – it's not too late to get in on the NAMING CONTEST!  This rig needs a name worthy of it's unique awesomeness!  Suggest a name below (and we don't mean "Betty") -we'll have the kids vote and announce the winner at the end of camp on Friday, Aug. 5 at 4pm!