One of the highlights from summer were these amazing Laurel Burch Horses!
Laurel's colorful felines are among many an art teacher's favorite project inspirations, but I have admired her horse paintings for so long and wanted to give them a go.  We were a little undecided how best to tackle these Laurel Burch horses with a mixed age group of 5-10 yr. olds – it's a somewhat abstract representation of a horse, and it's always a spatial challenge to instruct kids to only draw part of something (in fact when parents picked up on day one, many of them couldn't make out what it was).
I first discovered Laurel Burch's amazing art when I lived in Seattle in the 90's and would save up for a pair of her colorful oversized cat earrings at Nordstrom to accessorize my fashion-forward-jewel-toned-shoulder-padded-bow-tied corporate wardrobe.  Back in the day, big hair called for big jewelry!  And of course you couldn't be taken seriously at the office unless your cubicle was also adorned with Laurel Burch mugs, mousepads, & the like…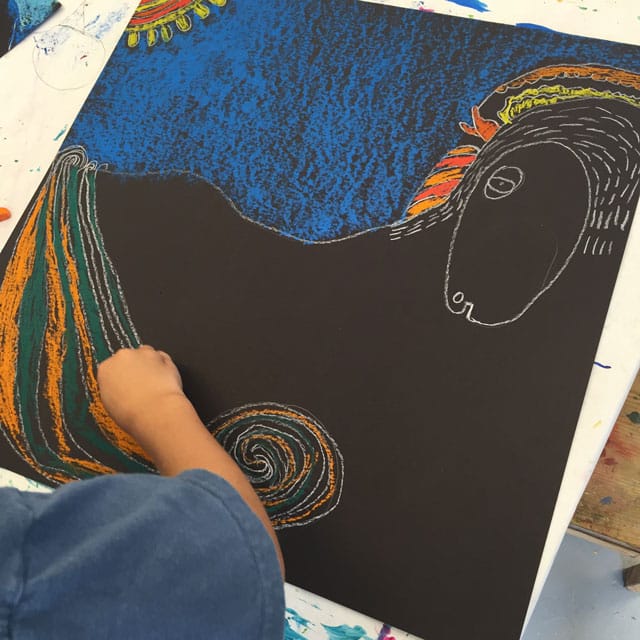 We decided to go big and create these on 22×22 square black 6 ply heavy poster board.  We love black paper with chalk pastel because it enhances the rich intensity of the chalk pigment.
We instructed the students to make two tiny little dots on each side of their paper as a started point (lower on the left, higher on the right, leaving a little room for the mane) and we just did a rolling wavy line to connect the two dots and create the basic outline of the shape of the head and hind end.  The rest was surprisingly easy. We drew with a white china marker, and then applied color with many many layers of chalk pastel (two days worth of layering and blending), emphasizing a light to dark ombre effect, and suggesting ways to use different colors to set the face apart.
Lastly, students selectively outlined certain parts (not all) in black oil pastel & applied a few lines of white acrylic dot details with the handle of a paintbrush.  These added some nice contrast and movement to the design.  The end results were really spectacular.  They almost looked sort of ethereal or celestial.  Stunning!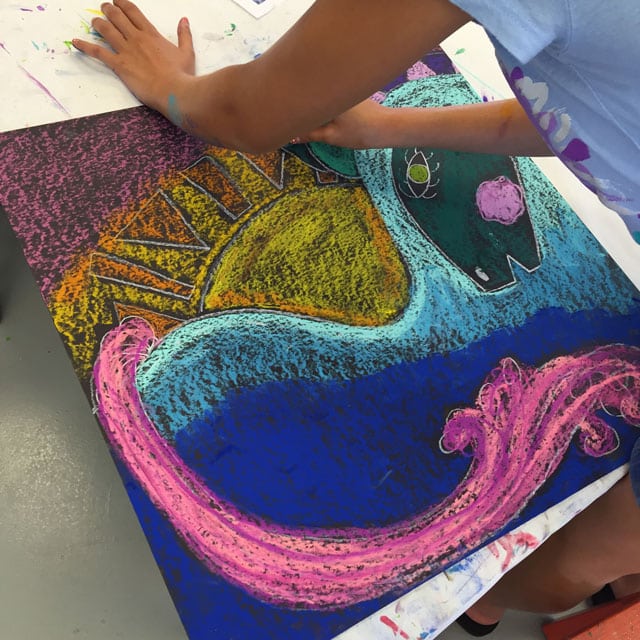 Getting the first layers of chalk down.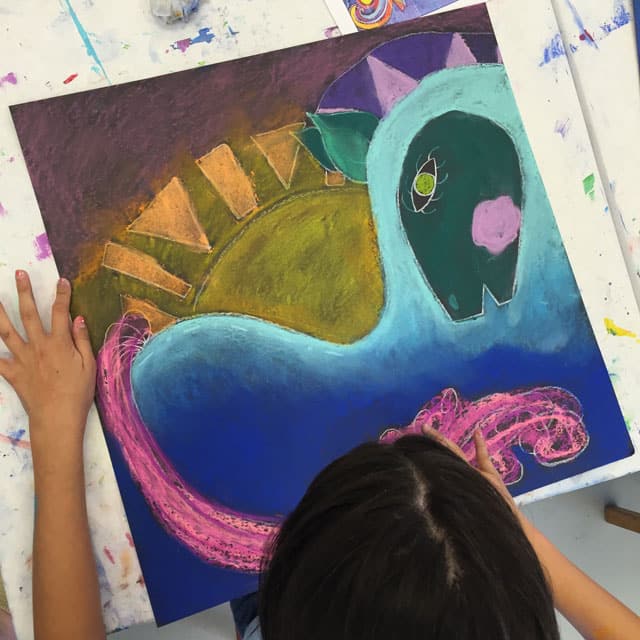 Starting to blend…