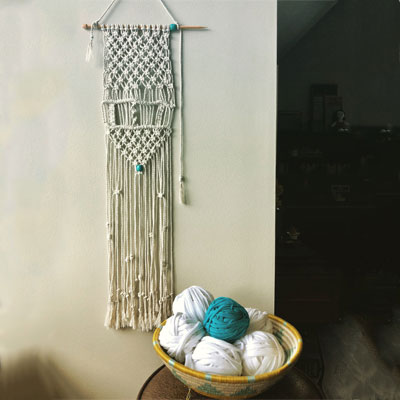 Whether you fell in love with macrame back in the 1970's, while mastering friendship bracelets on the playground, or as you scroll through Instagram – you'll love this opportunity to
create a modern wall hanging that will look gorgeous in your home. This workshop is one both you and your (super fun) grandma will love!
During this workshop led by local mixed media artist Val Chan, you'll learn the basics behind multiple knot styles, how to begin your macrame wall hanging, to work through your pattern, adding a pop of color with accent beads, and how to add a unique finish with dangling macrame cord. Don't worry – we'll have all the supplies you need for your unique art project!
We love macrame because it's an awesome way to get involved with the craft of fiber art without getting bogged down with boxes of supplies and materials! While this class is geared towards beginners or those that haven't played with macrame in a looooong time – we think it will be a pretty good time for all who are brave enough to take on a wild  night of crafting.
Show up.  Make something cool.  Your walls will love you!
Interested? Request a date for a public or private workshop!