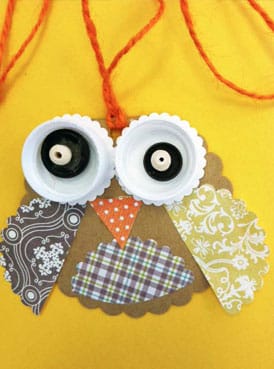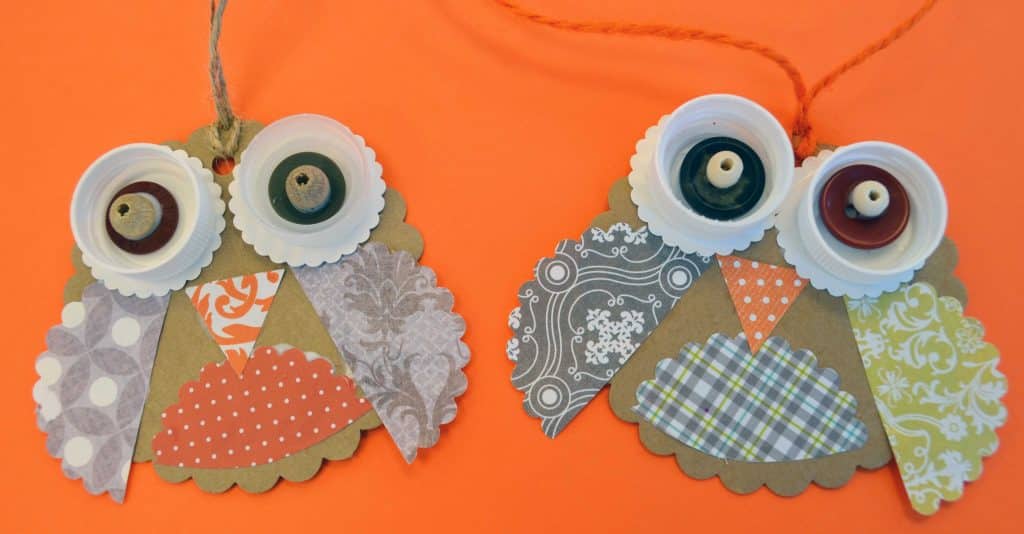 Looking for the perfect accessory for your new fall outfit?  Look no further!  These cute baby barn owl pendants can be worn alone or worn several at a time (fun fact:  a group of owls is called a "parliament."  Really!  Look it up!).  These pendants are made entirely from recycled materials that are easily found around the house and each one takes approximately four minutes to make!  So if you get started right now, you should be able to make about thirty by dinner time!  Have fun!
You Need:
Recycled cereal box or similar weight cardboard
Water bottle lids
Buttons and beads
Yarn or twine
Small hole punch
White school glue
Patterned paper or colorful papers from a magazine or catalog
Optional:  craft circle punch
How to Do It:
Trace a circle approximately 3 – 5″ on a piece of recycled cardboard and cut it out.  As an option you can use a 3″ craft punch.  In our example we used a 3″ scalloped circle punch.  After you cut the circle, using the small hole puncher, make a hole in the top to string the twine to make a necklace.
For the wings, cut a small circle out of colored or patterned paper.  Cut the circle in half.  Each half circle will become a wing.
Cut a small triangle or diamond shape for the owl's beak.
For the belly, using the same small circles as you cut for the wings, cut a curved shape out of one edge of the circle.  You may have to experiment to get the right size, compared to the size of the body and wings.
To make the eyes, start by glueing small white circles that are a little larger than the water bottle lids.  These will form the fluffy feathers around the owl's eyes.  Then glue on the water bottle lids flat side down, then glue the buttons inside the lids and lastly, glue a small bead for the pupil.  You don't have to stick to these materials for the eyes – get creative and see what else you have laying around the house that you can use!
Dab dots of glue on the cardboard body and attach the wings, belly, and beak.
Tie the two ends of twine together and feed it through the hole in the cardboard, looping the other end through the twine and pulling it tight to form a pendant knot.