Who hasn't dreamed of owning a cuddly little bat as a pet? Thanks to this easy DIY craft, you can have a whole colony without needing a rabies shot or worrying about your neighbors calling the health department.
These gentle & adorable mammals are so often misunderstood and given a bad rap. It is a little known fact that, given a choice, bats would prefer to accompany you to fourth grade and art class, rather than just blindly hanging out in a cold, dark cave. They also love to Trick or Treat!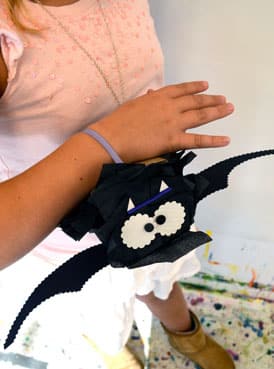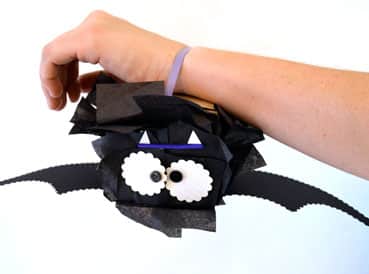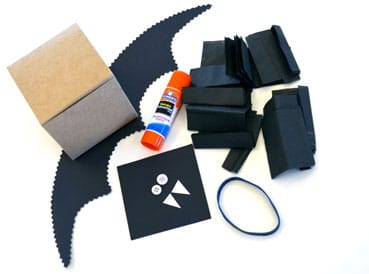 You Need:
A small recycled box, 2-4″ in size (cosmetic boxes work great!)
Glue stick
White school glue
Black tissue paper, torn or cut into 1-2″ strips
8×10 piece of black construction paper
Misc. cardboard scraps, for eyes and fangs
Two buttons
Small stick or piece of yarn for the mouth
2″ rubber band
How to Do It:
Slip the rubber band around the lid of the box and close/fasten the lid. The box will become the bat's body, and the side with the rubber band will become the bottom of the bat, so he can hang upside down from your wrist when you're done.
Using the glue stick, apply a generous amount of glue to every side of the box except the side with the rubber band.
For the bat's hair or fur, layer the strips of black tissue paper onto the box, working from the bottom up. Cover all sides except the bottom with the rubber band. It is impossible to make a mistake with this step. Even very young children can randomly grab handfuls of tissue paper and stick them all over the box.
Pick a side of the box to make the face. Cut two large round circles out of cardboard or recycled paper, and glue onto the box, overlapping each other a bit. These will form the large round circles for eyes.
Bats are blind, but they still have beady little eyes. Using the white school glue, glue buttons on the round cardboard circles for their eyes.
Glue a small stick or piece of yarn on the bat for the mouth, and glue two tiny little triangle fangs on each side.
Fold the black construction paper in half and cut the scalloped shapes for the wings. By folding it in half before cutting, both wings will be identical.
Use the glue stick to attach the bat's wings to the side of the box opposite the rubber band.