We're excited to share this Dream World Coronavirus Survival Craft!  ~ the entire world is literally crafting to stay sane right now, aren't we??
Times are cray!  As I write this we are almost two weeks into the Coronavirus quarantine, and in Charlotte we start our "stay at home" mandate today.  Who could have ever imagined this situation the world is now facing – a global pandemic – huh?!  The words alone are just frightening.  We are sad that we can't be in the studio creating together with all our little people but are trying to stay busy and distracted!
So what better time to catch up on sharing some fabulous "Coronavirus Crafting" projects with everyone to help survive the quarantine?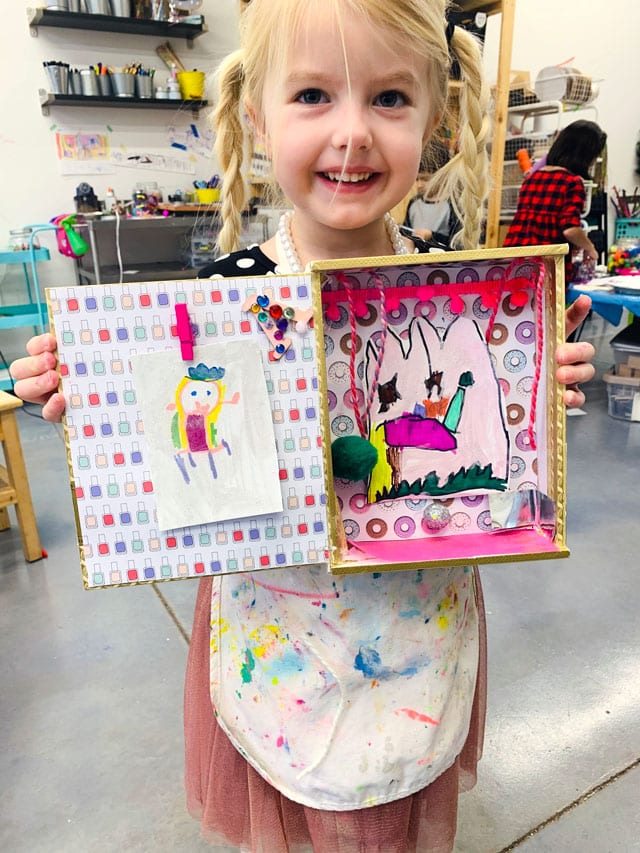 Every child in the world is home right now, feeling all sorts of feelings they aren't able to process, let alone express.  Art is the simplest form of expression!  It helps kids communicate thoughts and feelings in a way that words just somehow aren't capable of sometimes.  It can be relaxing and comforting.  Oh – and did we mention art is fun!
This "Coronavirus craft" as we are affectionately calling it, gives kids a fun way to survive the quarantine and escape reality for a bit!  And it gives them the ultimate power to create their own reality!  The possibilities are limitless!  Kids miss their friends – so how about creating a scene with a favorite memory playing with their friends!  Or a scene depicting what they'll do when they can be reunited!
This "Dream World" project is great for any age – older kids can make it more elaborate with finer details.  I even made a diorama recently for my husband depicting a scene with our much loved mountain cabin!  For tweens & teens – check out this shadowbox diorama students made, inspired by one of our fave artists, Kim Welling.  And for a younger, simpler version – look at these!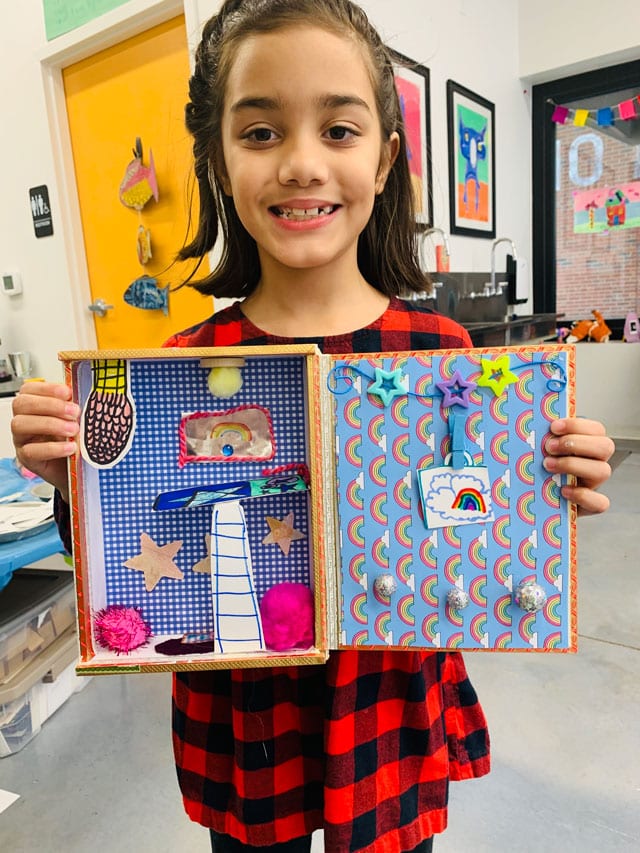 Dream Bedroom



You Need:
Empty box – any kid of box will do!  Boxes with lids are cool if you can score one!
Heavy weight paper to make the objects that will stand up inside the box
Paint – any kind will do!
Decorative papers for the background or "wallpaper" – scrapbook papers, repurposed painted paper from other art they created
Something to draw with – markers, sharpies, etc.
Something to color with – crayons, oil pastels, colored pencils, watercolor
Scissors
Glue stick
Optional:  String + pony beads or buttons, if you want to create a theatrical scene where the pieces can move
Optional:  Mod Podge if you want to decoupage background materials ("wallpaper", etc.) vs. just using a glue stick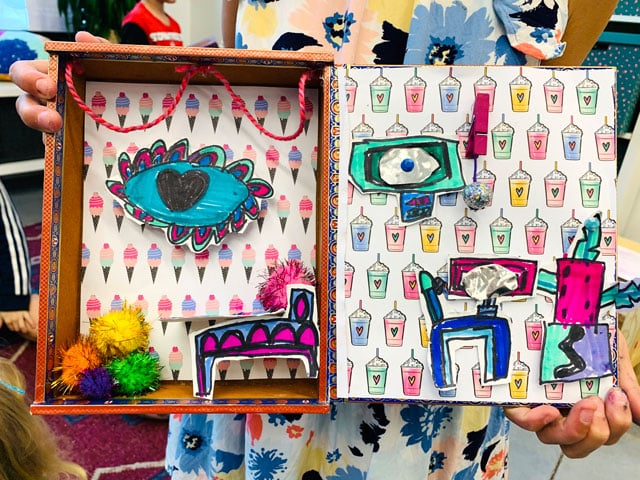 … another fab dream bedroom!  I want to live here!

How To:
Start by dreaming up your scene!  Here are some quick ideas:
favorite memory
scene from a favorite book (btw – this was my hands down most favorite project to do for "book reports" back in the day – do kids still have to do book reports??)
what you did last summer
what you plan to do this summer (!!)
scene from a family vacation
at the beach
under the sea
in the mountains
dream bedroom — check out the photos of dream bedrooms from our Fort Mill studio!  Kids LOVED this project!
at the zoo
superheros
scene from a fave movie – Frozen anyone??
unicorns and rainbows
pretend you own a shop – is it an ice-cream parlor?  A pet store?
scene from inside a building – a library, your school, an arcade…
cityscapes
ok I'll stop now…. you get the idea!!
It helps to sketch out the scene on paper first.  Older kids can be challenged to incorporate some basic perspective principles – things in the background are smaller and things in the foreground appear larger.  Older kids can also get more intentional with their composition, with some objects only partially visible, more layers, etc.
Draw all the little objects with a sharpie or colored marker.  IMPORTANT:  In order for the pieces to stand up, you have to include a little "tab".  Color them in and carefully cut them out.  Don't accidentally cut off your little tab!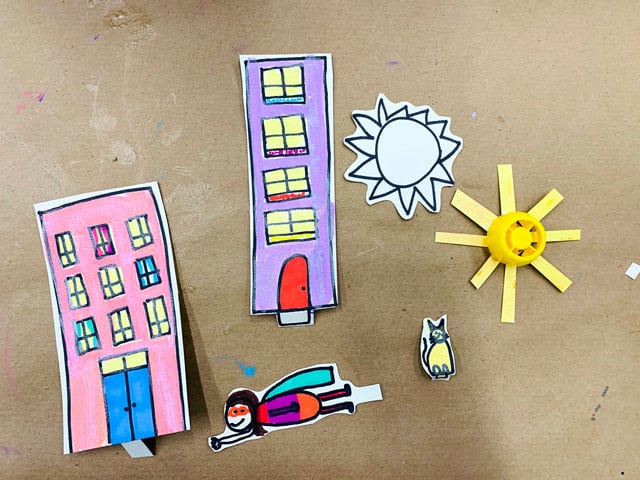 Remember that objects far away are smaller than the ones that are close!
If you want to cover the inside walls of the box, you can trace the box on a piece of paper, and cut slightly smaller.  You'll have to fiddle with this part to get the fit just right!
Dry fit all your pieces in your box to re-arrange your scene until you love it!  Then start gluing!  IMPORTANT:  Work from back towards the front!  So glue down your wallpaper, etc. first.  If you prefer to decoupage with Mod Podge, apply a thick layer of Mod Podge, lay your paper on top, then add another layer of Mod Podge.  Smooth out the air bubbles with your finger and brush back over.
If you want your scene to MOVE – here's a fun trick:   Parents can cut a thin slit along the top of the box with an Xacto knife or box cutter.  Instead of gluing the objects to the inside of the box, use a hole punch and attach them to a string.  Push the string through the little slit at the top of the box and attach a small bead or button as a "stopper" to keep the string in place.  Then kids can slide the objects back and forth and play and rearrange their scene.  They can put on a theatrical play this way!  This photo below is a good example of this technique!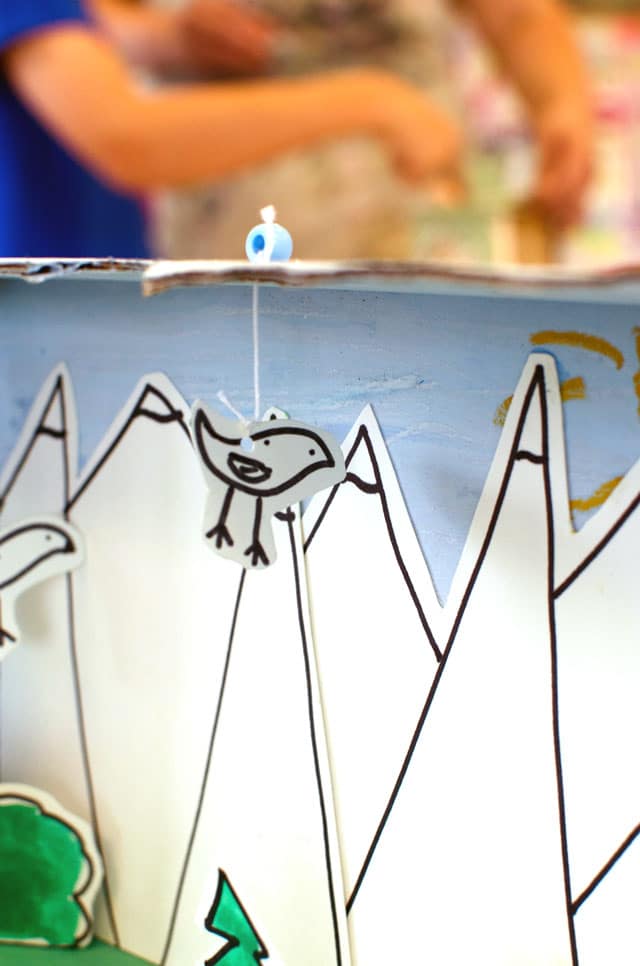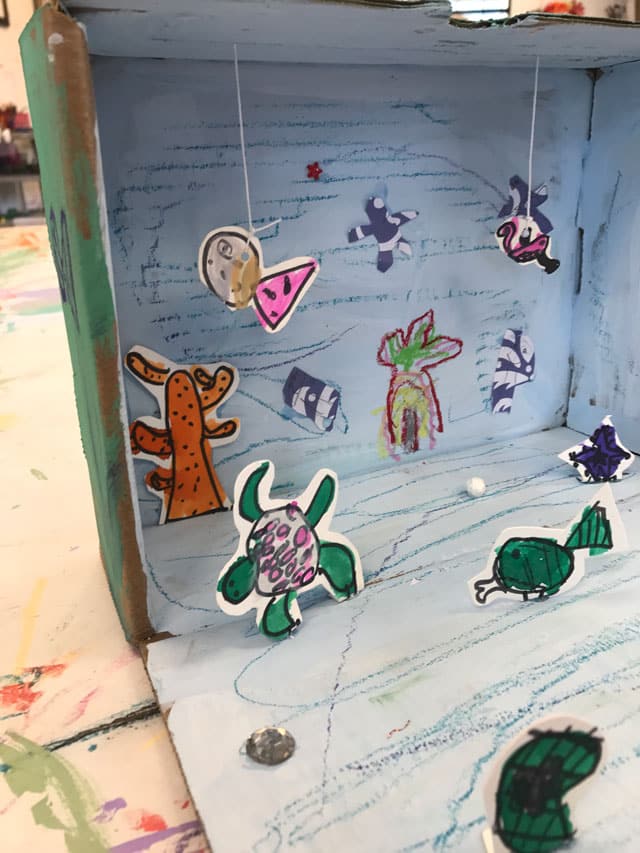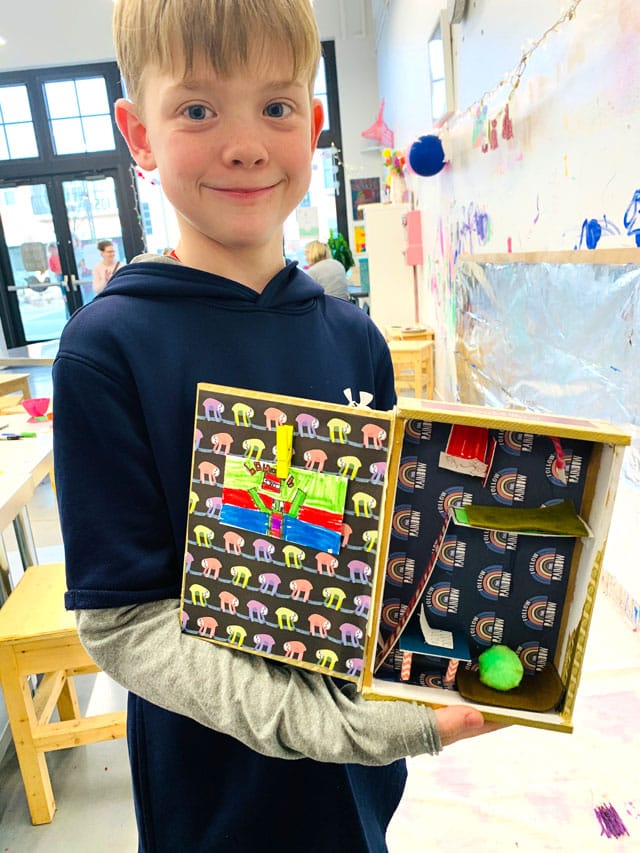 Look at this "under the bunk bed lounge"!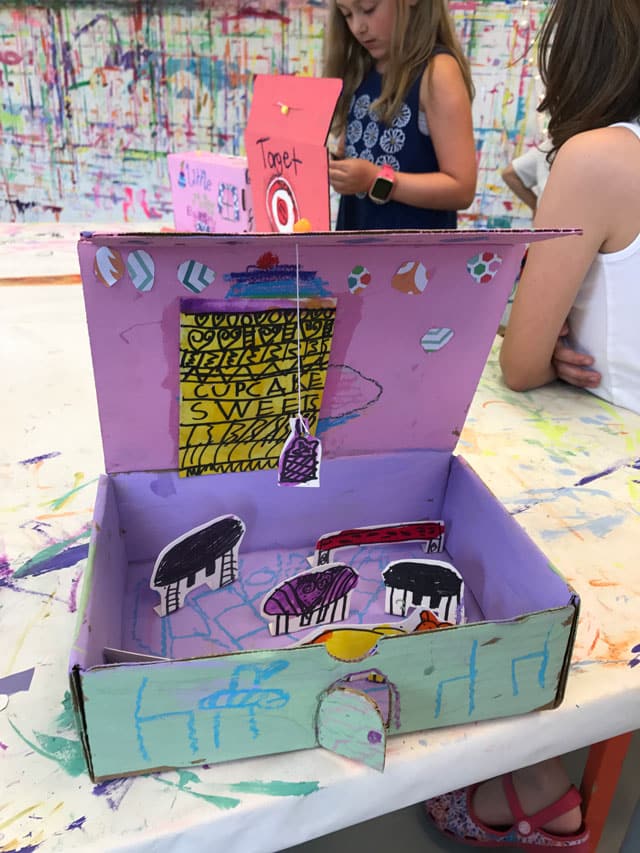 Cupcakes anyone?  Let's meet up at this sweet bakery in a few weeks!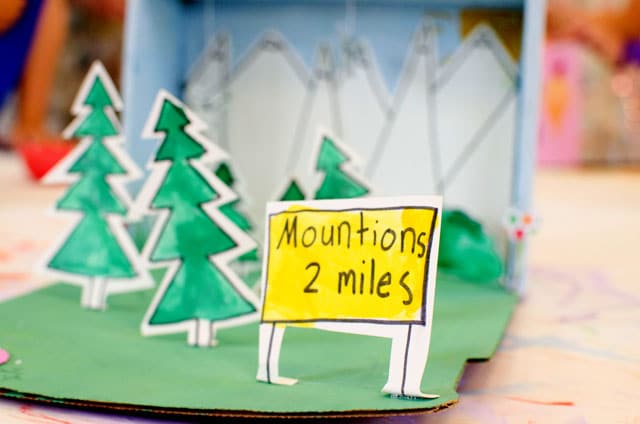 The mountions are calling and I must go…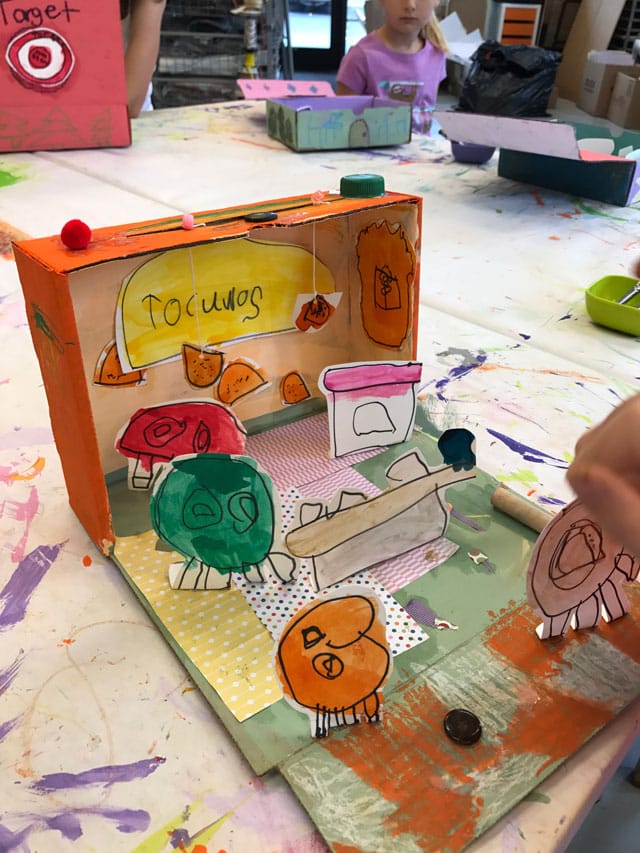 one of my faves…any guesses??  it's a TACO SHOP!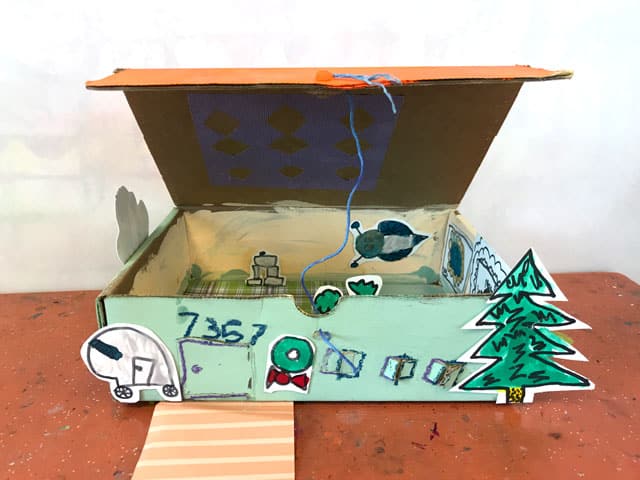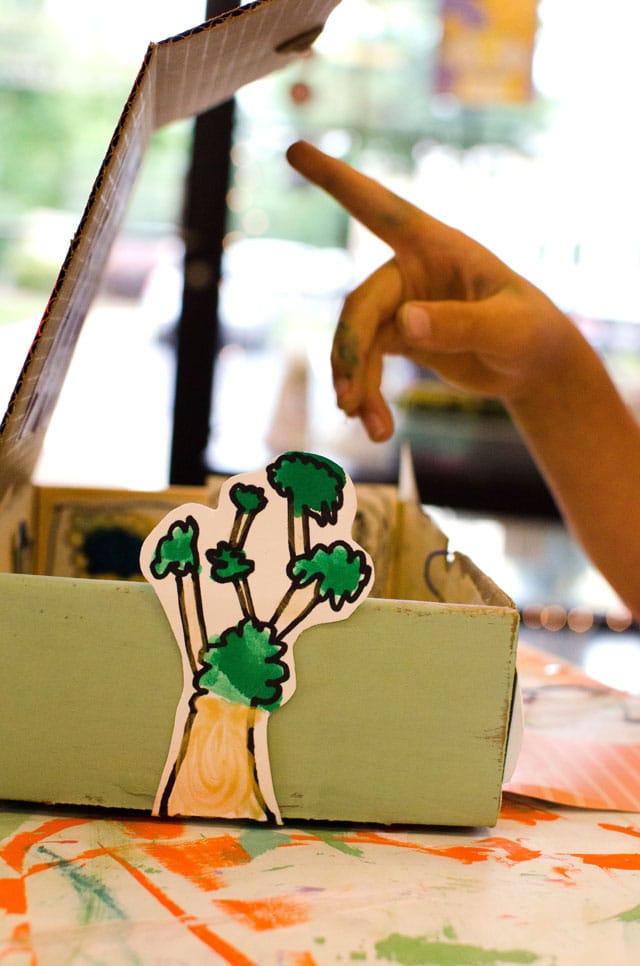 EXTENSIONS:
Creative writing prompt:  write a story about the scene depicted!
Assign each of your family members a person or animal in your scene and everyone act out a play!  What a fun game!