What would be more fitting for a 2020 holiday craft than a project that involves randomly poking an object with lots of pokey things?!?!  Supervised by an adult, of course.  I mean, what fun for the whole family, am I right?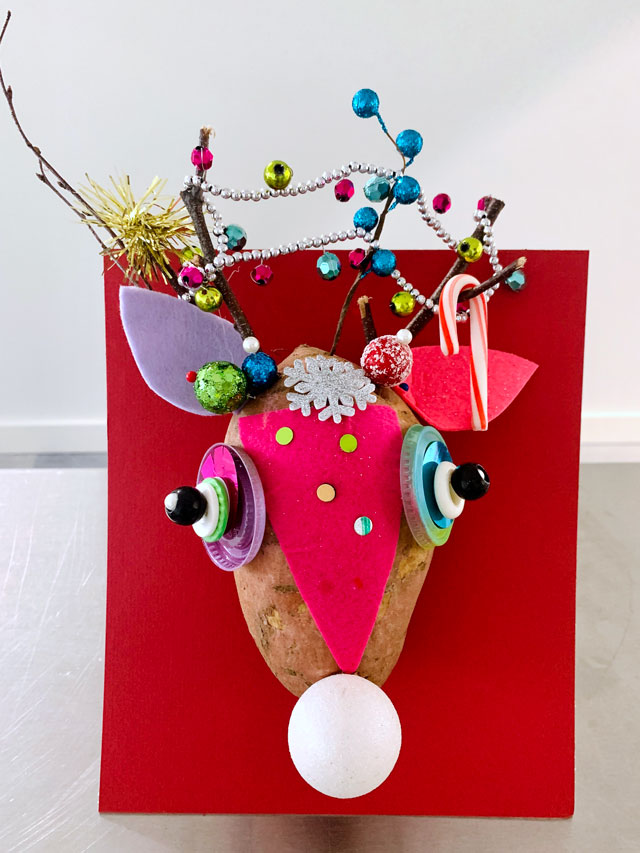 When we challenged ourselves to come up with our 2020 reindeer, we drew inspiration from all our reindeer from yesteryear.   And Mr. Potato Head, of course.
I never had a Mr. Potato Head when I was a kid, but specifically remember the cool kids on our block that had one (they were also the ones with pogo sticks, Magic 8 Balls and sugary cereal!  Is there a connection?  ….hmmmm, I wonder…).  I must confess until I made these reindeer, I didn't fully appreciate the fascination of placing a nose where an ear should be, or giddily (is that a word?) giving him one complete makeover after another!
I played around with a few versions of these, as well as a few different potatoes.  I think you'll find this is a super fun project to collaborate on as a family!  Maybe plan a Mr. & Mrs. Reindeer Potato Head throwdown?  A little healthy competition never hurt anyone, right?

You'll Need
Large sweet potatoes or russet baking potatoes – look for interesting shapes and sizes!
Small fingerling potatoes (if you want to attach a separate head)
1.5″ – 2″ corsage / hat pins or T pins
U shaped floral greenery /fern pins (optional)
Wood skewers
Twigs & small sticks (for antlers + arms & legs)  – cinnamon sticks also work great for arms & legs!
Felt or foam (for ears and snout)
Beads & buttons (for eyes)
Holiday sequins, gems & do-dads (think
Small holiday ball ornament or large jingle bell for nose
Other sparkly holiday bits and bobs – think snowflakes, small garland to decorate antlers, etc.
Small jingle bells

How to Do It
First, get in the right reindeer potato head frame of mind by singing Rudolph the Red Nosed Reindeer and watching this.
Safety first!  Make sure to demonstrate to your kids the safe usage of the hat pins and skewers, i.e., never play with them, and always keep fingers, eyeballs and other body parts out of the direct path of the pin.  Supervise children while they are working, particularly younger kids!  This is not a craft I would set up and leave them anyone younger than 8 alone to work on!
Because of the small size, you don't need a huge supply of holiday do-dads!  Send kids on a scavenger hunt to scrounge up a few ornament balls that have fallen off the tree, strands of tinsel, or let them de-construct a holiday garland that you're tired of and want to repurpose.
The potatoes are soft enough that I didn't find myself needing to pre-poke guide holes for anything – but you could do that with either a skewer or awl as an option.
If you're making the full body version with a separate head, slowly and carefully push a wood skewer through the small potato and out the other end about 2″ (long enough to create a strong bond when inserted into the larger potato for the body).  Attach the smaller potato to the larger one with the skewer, and simply break off the extra length of skewer.
As you holding the larger potato for the body steady with one hand,
Cut a small triangle of felt for the reindeer's snout.   Adhere with hat pins in the center of the face.
Cut almond / lemon shapes for the ears.  To give them a 3D appearance, make a small snip on one end and overlap the snipped edges before affixing with a hat pin.
To create the eyes, take the hat pin and layer a sequin, button and bead to create an interesting, layered eye.  Gently push the hat pin into the potato to secure.  If you don't like it, the beauty of this project is you can pull it out and move it!
For the nose, remove the end cap of a shatterproof ornament and twist it into the potato (like you would screw a lightbulb into a socket).  I found that this makes it very secure and tight enough to last through the holidays.    Another option is to use a jingle bell or a large bauble with a hole in it for the nose instead!
Break off small twigs and firmly push them into the top of the potato for antlers.
Use the U shaped floral greenery / fern pins to affix twig or cinnamon stick arms & legs.
From there, you can decorate your reindeer any way you can imagine!  Sequin polkadots?  A large snowflake on the head?
Decorate the antlers with small strands of mini garland, or tinsel.  Hang little jingle bells or mini candy canes on the antlers.  Maybe a note to Santa?
Enjoy!