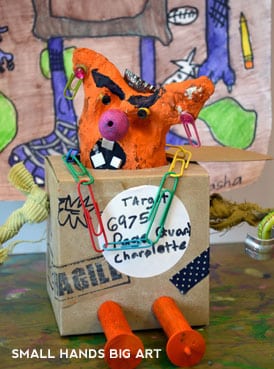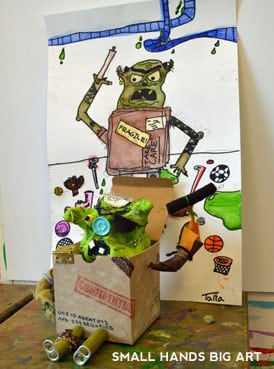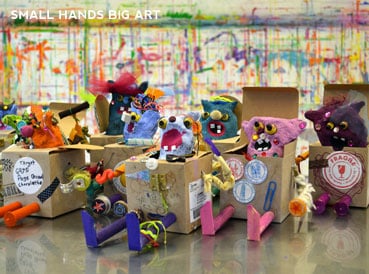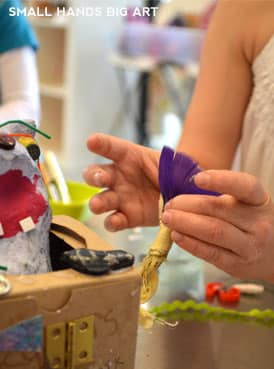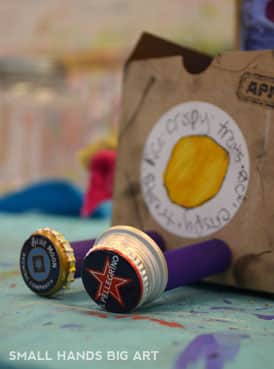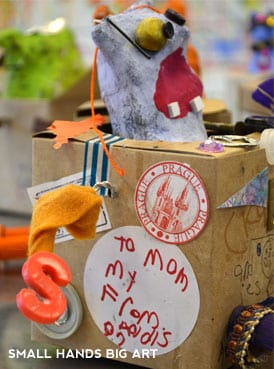 Two words:  The BoxTrolls!  If you haven't watched the mesmerizing trailer for this 3D stop-motion film that debuts this September at least 47 times, you must not have a summer camper at small hands big art this week!
We can't begin to express in words our enthusiasm for the BoxTroll movie, and we haven't even seen it yet!  Not only are we in awe of the talented team of creative geniuses behind this 3D stop-motion film from Laika (who have the coolest jobs on the planet!  ~ seriously, watch the "behind the scenes making of…" link below!), but the story itself seems so utterly irresistible!  The production of the film is super fascinating – the producers leveraged digital design & 3D printers to create tiny figures in different poses in a fraction of the time that it would take for traditional claymation films.
These lovable (albeit filthy) creatures are imaginative and inventive, full of personality, & so clever and resourceful!  They have grand adventures in their underground world, and are amazingly clever with their covert disguises of stolen and recycled box habitats.   Everything about this film seems like it will just blow the lid off the average kid's imagination, proving that artistic expression comes in limitless shapes & sizes – it doesn't just mean drawing & painting!
Students in our summer camp this week had a blast watching the movie trailer, drawing blue print designs for their unique troll, and then sculpting it's body out of papier mache.  Full disclosure:  this was a BIG project, and there was a little extra prep on our end – we helped pop wire arms out the sides of the boxes and cut holes in the lids if desired. Oh, and we're out of hot glue sticks.
Take a peek through the gallery at these wild, wacky and down right UUUGGGGLLLLYYY trolls!