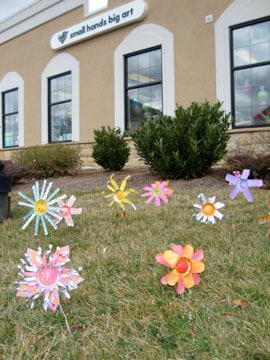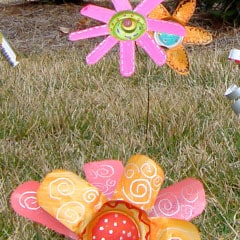 Get a jump on your spring flower garden this year with this classic and colorful craft!    These funky flowers have a cool retro look, and don't require a green thumb to make!  Crafted from aluminum soda cans, these environmentally conscious perennials are fun and easy to make at home.   Wow your neighbors, have fun with your kids, and ease your guilty conscience about your secret Diet Dr. Pepper addiction at the same time!
You Need:
Empty soda cans (you'll want to make these by the dozens, so have a good supply on hand!)
Coat hangers or other strong wire
Wire cutters
Scissors (tin snips or poultry shears are recommended to remove the top of the can)
Hot glue gun
White school glue
Acrylic paint & paintbrushes
Glitter
Do-dads to adorn the flowers (buttons, bottle caps, jewels, sequins, etc.)
Clear outdoor spray sealant (option)
How to Do It:
Ahead of time, rinse out the cans and cut off the tops of the cans. Using the tin snips or poultry shears, hold the can in one hand and pointing the scissors away from you, carefully poke a hole in the top of the can where it bends. Cut all the way around the bend to remove the top of the can. Though not difficult, this is the hardest part of this project, and we recommend that an adult complete this part.
Hot glue the stems on. The stems can be made from wire coat hangers or other strong wire. With wire cutters, cut the wire to the desired length, and bend/twist the end to form a little "clump" of wire that can be hot glued onto the concave back of the can.
Using regular scissors, make the flower petals by cutting from the open end of the can all the way down to the bottom bend of the can.
Carefully bend the petals back one at a time by bending them from the bottom of the can. Trim the edges of the petal into your desired shape (round, angled, etc.).
Paint with acrylic paint and sprinkle with glitter while wet. Allow to dry for 10-15 minutes.
Decorate with buttons, jewels, and recycled materials such as colored water bottle lids, bottle caps, etc.
Suggestions for getting creative: stack two flowers together by using hot glue around the bottom of one can and placing in the center of the other; curl the flower petals by wrapping them around a pen or paintbrush handle; punch holes in the petals with a paper hole punch; cut the petals at angles rather than straight lines; and "scratch" a design in the dry paint with a piece of wire.
These flowers will last forever outside, but like all beautiful living things, without adequate sunscreen their beauty will fade in the sun over time. A little clear outdoor spray sealant (found at the craft store) will help extend their color.