About two years ago, our lovely neighbors, Switchin' Kitchens, donated a stack of large pour spouts for us to turn into art.  We have been staring at these oversized plastic spouts, moving them from one shelf to another, waiting for some sort of light bulb to finally go off, and last week, it finally did!  Feast your eyes on these quirky little upcycled dolls that our 3-5 yr. old classes created!  Full of personality, these characters are sporting super spiffy hair-do's, and are clearly dressed for success!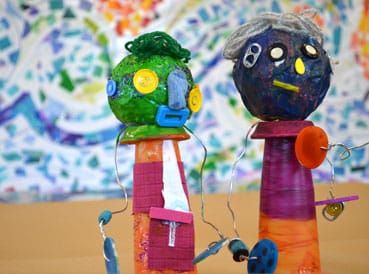 Using paint, wooden pieces, odds and ends of wire left overs, and little doodads we had around the studio our preschool class created some whimsical and imaginative dolls that left us hankering for our childhood.
We're in love with these upcycled dolls!