Spider webs are sticky and so is this quick and easy Halloween-inspired craft for toddlers: Sticky Spider Web!
We use a lot of simple household materials for toddler art projects, much to the fascination & surprise of the parents in class.  Sometimes we hear them whispering to each other, "What is this??" as they feel something, assuming it must be some sort of specially made, hard-to-find art material. They are usually surprised when they learn it is something so simple – the same stuff their grandparents used to line the drawers and shelves of their camper with!
Kids love contact paper for it's stickiness without the messy fingers!  It's great for toddler collage projects, coloring with oil pastels (the kids enjoy the creamy, slick feel of the pastels on the sticky side of the contact paper), sun catchers, you name it!   It's easy to find (in your local hardware or drug store in the kitchenware aisle), but we feel obligated to warn you that mastering the technique of removing the backing paper without the sticky side ending up stuck to your face takes years of practice and the coordination of a Cirque du Soleil acrobat.  We have good days and bad days.
You Need:
Black contact paper
Clear contact paper (to cover the top when finished)
White yarn or string
Masking tape
White oil pastel
Odds & ends to stick in the web so it looks like a real spider web
Glitter (we use Halloween colors like purple, green & orange)
Something to make the spider.  You can get creative here – a cotton ball or pom pom… We used a small circle of scrap paper with two buttons for eyes, and little sticky Wikki Stix for the legs.  Wikki Stix are another great material for toddlers since they can stick them by pressing without having to use glue.  Or kids can just draw a spider with oil pastel.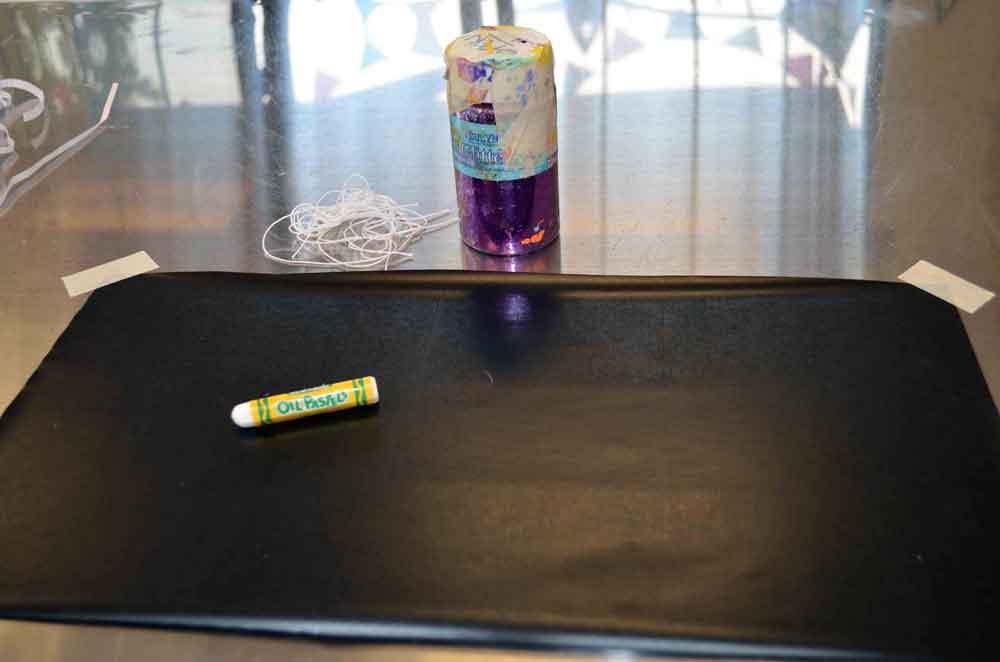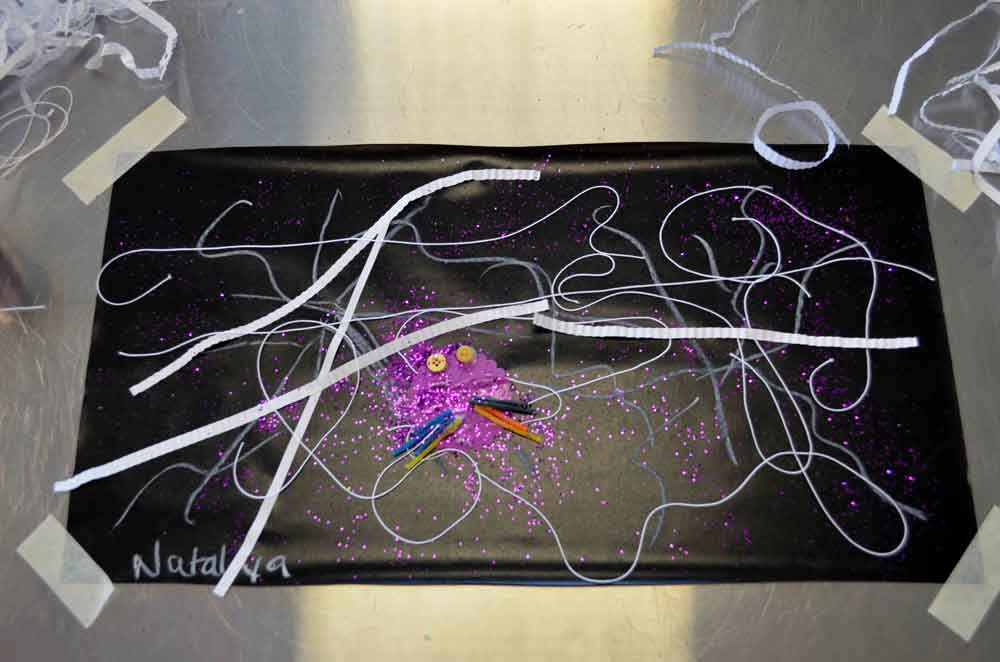 How to Do It:
Tape a large piece of black contact paper to the table so it is very secure.  You don't want it to come off the table when the little ones gets their hands stuck to it!
Start with a white oil pastel to draw lines on the black contact paper.
The rest is pretty easy!  Start sticking long pieces of string to the contact paper.  For toddlers of course, they likely won't understand or care that they are making a "spider web" – to them, it is more about exploring the materials and the joy of creating something by themselves!  You can help them expand their vocabulary while they are working by asking how it feels (sticky, etc.), and what colors they see, etc.  For preschoolers, you can look at real spiderwebs in nature or pictures, and they are old enough to try to arrange the string in the shape of a spider web, but again, even for that age, it's more about the process than the finished product.
Create the spider by either arranging and sticking materials in the shape of a spider, or drawing the spider with oil pastels on the contact paper.
Sprinkle a little glitter to resemble the web glistening in the moonlight.
Cover with a clear piece of contact paper.  Here's a handy tip to avoid a lot of air bubbles:  remove the paper backing, and drape the contact paper over the bottom piece in a U shape, then gently lower it so the curve of the U sticks to the center of the bottom piece, and slowly lower each side. Then encourage the child to help rub it so it sticks together!